ALL You Need to Know About the Average Car Insurance Cost
Insurance is one of those things you don't think you need… 
… until you do.

Car insurance is no exception. 
And yet, every time you pay your premium, you're left wondering:

Am I overpaying for car insurance?

Maybe you are, maybe you are not.

Before we find out, let's warm up with some numbers:
The only way to find out is to compare your rate to the average car insurance cost in your state while taking into account all of the factors that can impact it… 
Nevertheless, one of the most important things you need to know is:
What's the average cost of car insurance in America?

This will give you a general idea of whether you are overpaying and need to have a chat with your insurance agent, or if you are paying less and should count your lucky stars.

Before we go into all of that, let's cover some of the basics. 
The General Auto Insurance
If you were to ask your friends and family how much each of them is paying for insurance, you will find that the costs vary greatly.

Your married aunt in her fifties is probably paying less for her insurance than your 18-year-old cousin. So what gives?
What factors affect the cost of car insurance?
Naturally, the type of insurance you have will affect the cost — some drivers can only afford the legally required minimum while others opt for more comprehensive coverage.

It goes without saying that getting the bare minimum is also the cheapest option, whereas getting full coverage car insurance is way more expensive. 
So, let's check out those other factors that aren't as obvious.

Insurance companies factor in your location when determining the rates. For starters, each state has different laws regarding the minimum required coverage.

Then, there are some areas where car accidents are more common. For example, you are more likely to be involved in a fender bender in a city with busy traffic, rather than on a rural country road.

This is one of the reasons why car insurance prices vary greatly by state.
Every insurance company is trying to determine which applicant has a higher chance of getting into an accident and cost them money in damages.

'High-risk drivers' usually get a higher rate than those that have never been involved in an accident or gotten a ticket. 
That said, most insurance companies will forgive your driving mistakes after 3 to 5 years.

So, make sure to shop around if 3 years have passed since your last speeding ticket. Who knows, you may find a company that offers you a lower insurance premium.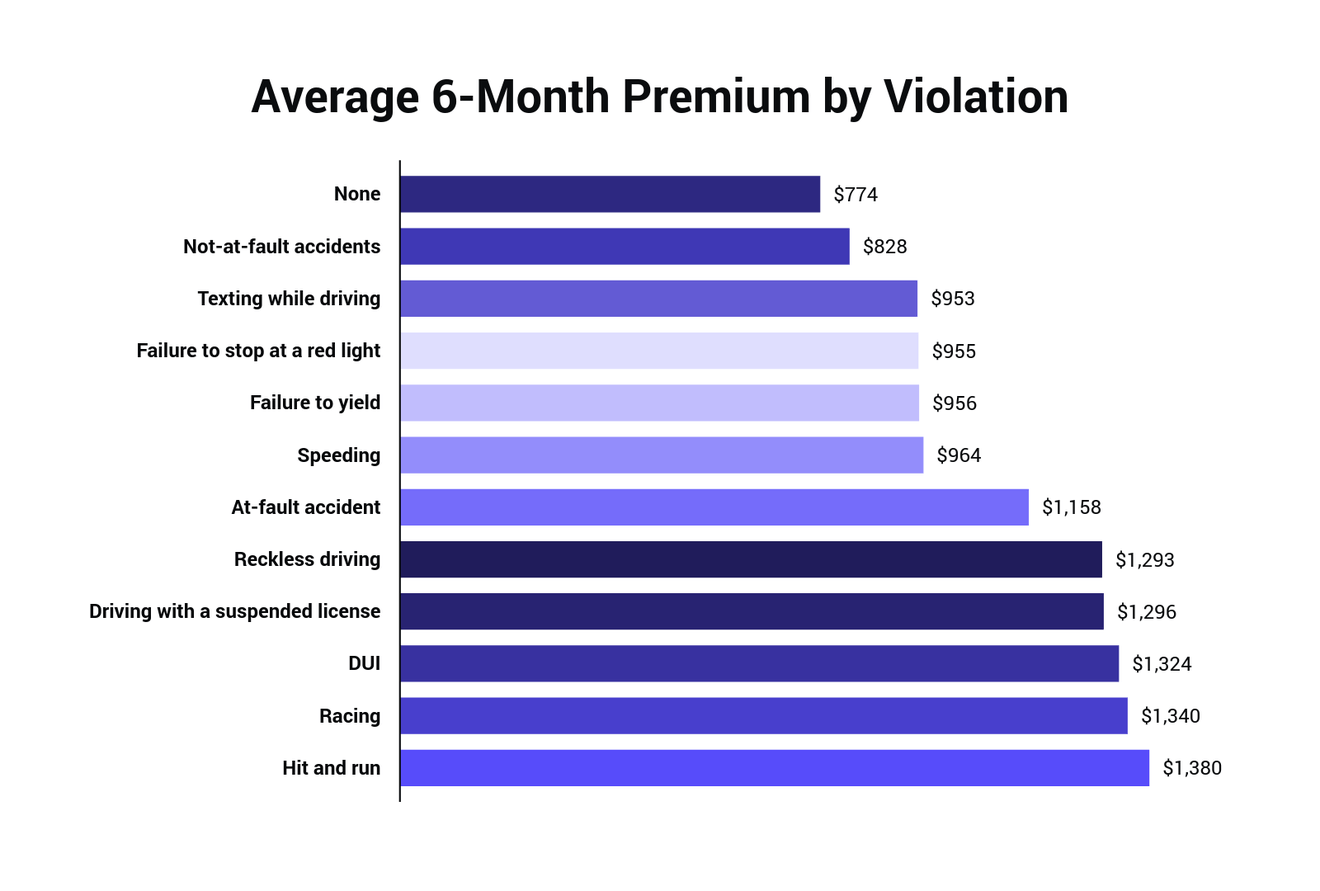 (Image Source: The Zebra)
While insurance companies are not allowed to use your credit score to determine the costs of your car insurance in four states — California, Hawaii, Massachusetts, and Michigan — for the rest, your score is fair game.

A report by the Federal Trade Commission suggests that credit scores have been effective at determining higher-risk consumers.

The main thing that interests insurance providers is whether you have made any recent insurance claims.

It's important to note, however, that not every company values your scores the same way. If you shop around, you will find that some companies will give you a better rate than others.

Just like with your driving history, if more than 3-5 years have passed since your last credit mishap, you're free to shop around. Negative information is usually removed from your credit report after 5-7 years. 

Check out our article featuring the latest credit score statistics to find out how you compare to the national average, and to get some tips on how to improve your FICO score.
Yup, the average car insurance rates by age and gender can vary slightly. Teenagers, and more specifically male teens, pay the most.

The reason for this is that male teenagers are statistically more likely to get into an accident than their female counterparts. 
Don't worry, you won't be paying as much down the line. Drivers in their twenties pay significantly less, and the amounts you need to pay go down as you age.

Those in their fifties have the lowest rates. Your costs may increase slightly as you reach your eighties though.

There you have it — just get older and your rates will decrease.

Unless… you are a woman in your forties. In some states, women have a slightly higher car insurance rate. The difference is less than 1%, so either way, the costs decrease once you hit your thirties.
Naturally, people that use their cars often for work-related purposes will have higher rates.

That said, occupation might have an impact even on the rates of those that don't use their vehicle for work. Insurance companies are constantly looking at stats as they try to figure out whether people working in certain industries are more or less likely to file a claim.

Supposedly, nursing sisters get the cheapest car insurance quote.
Ah, the joy of marriage! Lifelong companionship, growing old together, cheap car insurance…
Wait, what?
Yup — married people are considered to be less risky drivers and more financially stable.

Spouses also usually insure both their vehicles at the same company, which means bundle deals. So, perhaps they are getting a discount for a multi car insurance quote.

Yet, once teenage kids are in the mix, their rates increase.

Divorcees though get higher rates since they are deemed to be riskier drivers.
Not surprisingly, sports cars are more expensive to insure than SUVs. Also, cars that are cheaper to repair will also give you lower rates.

Types of Car Insurance
Now that we have gone over what factors affect the cost of your insurance, let's review the main types of insurance you can get — which also impacts the cost.

We already mentioned that the minimum legally required car insurance is the cheapest option. Let's explain what that is.
Liability Insurance
In almost every state — except New Hampshire — drivers are legally required to have this type of insurance.

Why is that so?

The purpose is to have a guarantee that if you cause an accident, or if you are an at-fault driver in an accident, any injuries caused to other drivers, passengers, pedestrians, as well as any damage to property will be covered.
There are two types of liability insurance:
Bodily injury

liability

— covers all of the expenses related to injured drivers, pedestrians, and passengers.

Property damage

liability

— covers the costs related to any property damage you have caused.
You will usually notice this format:
25/50/25
This means that insurers will cover:
$25,000 bodily injury per person

$50,000 bodily injury per accident (applies if you injure multiple drivers, passengers or pedestrians in one accident)

$25,000 property damage per accident
While getting this type of insurance is mandatory, there are still a lot of uninsured drivers on the road. And sometimes, the required minimum is not enough to cover all of the costs.

Which brings us to:
Uninsured or Underinsured Motorist Coverage
This type of coverage kicks in when you get into an accident with a driver who is at fault, or liable, but either doesn't have insurance or the insurance he has is not enough to cover all your medical costs or property damage. 
Collision Insurance
This is a sort of vehicle insurance — the purpose is to cover the costs related to repairing your car.

Let's say you are the driver who is at fault and you have caused damage to your car. For example, you have hit a lamp post or bumped into another car. 

This type of insurance will cover the costs incurred by the
traffic collisions
you have caused.
Comprehensive Insurance
Your car can get damaged without getting into an accident. And this is the reason why people get comprehensive (sometimes called full) coverage.

It covers any damage caused by:
Fire

Hurricanes, tornadoes

Falling objects

Animals 

Theft

Vandalism 
So, when do you need comprehensive insurance? 
Is it worth it?

It doesn't make sense to get this type of insurance if you are driving an older car that doesn't cost much.

The main reason you would want or need this type of insurance is:
you have a new and expensive car,

when you are in the middle of a

lease pay off

or

in the middle of a

loan pay off

.
Check out the latest car loan stats to get a general idea of the full vehicle costs! 
Car Insurance Rates
What we've learned so far is that insurance companies use all sorts of info to predict whether you are a high-risk driver that will cost them money or whether you are a reliable person.

Now, let's move on to check out some of the national average rates.
Drivers aged 16-19 pay an average of

$2,511

for a 6-month premium.

On average, drivers aged 30-39 pay

$766

for a 6-month premium.

The average 6-month premium after texting while driving is

$953

.

The 6-month premium after reckless driving is

$1,293 on average

.

The average 6-month premium after a DUI is

$1,324

.

The average 6-month premium for drivers with very poor credit score is

$1,448

.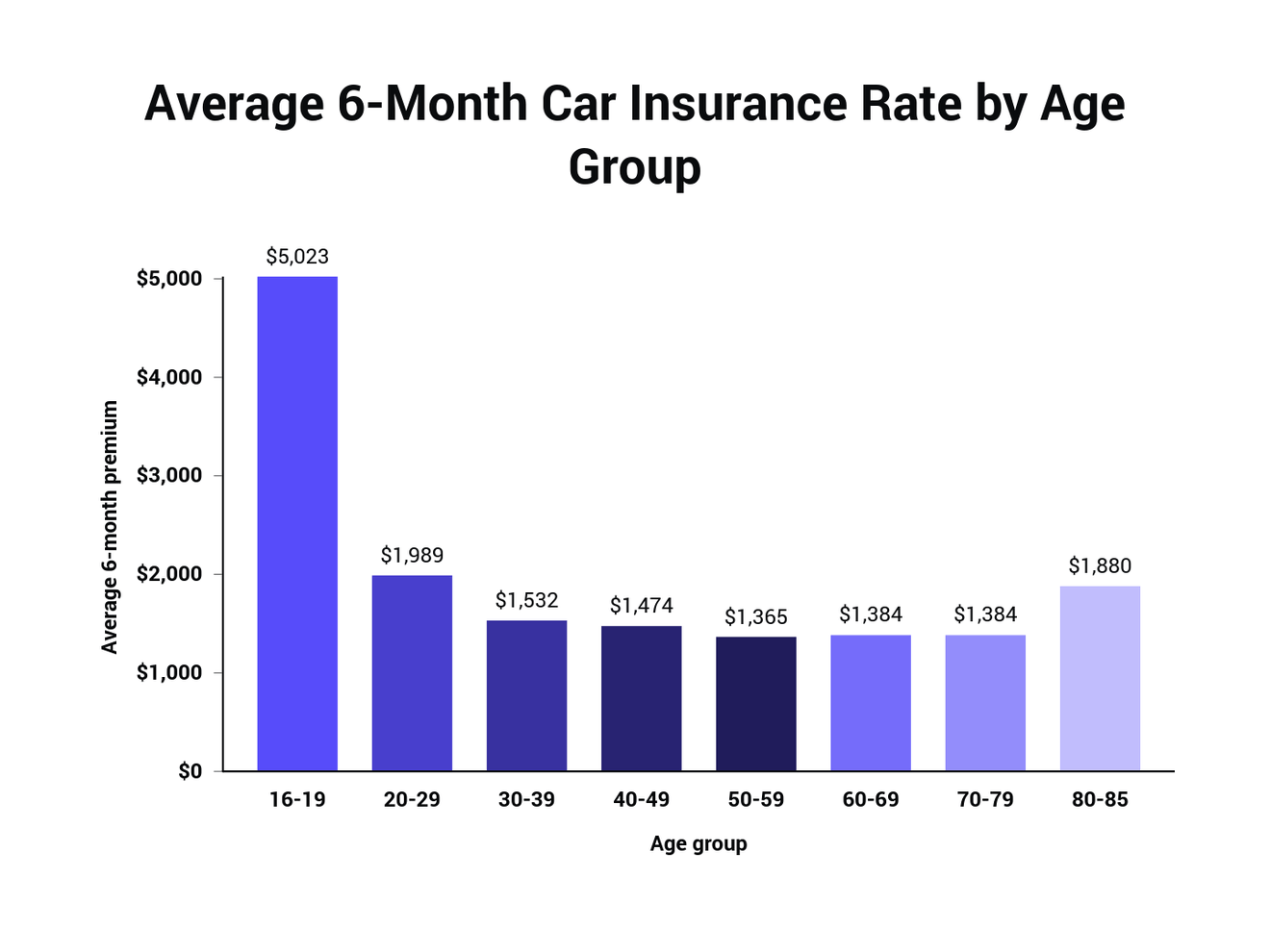 (Image Source: The Zebra)
Compulsory Auto Insurance
Ever since people could afford cars, they started having accidents with them. Along with those came damages and all types of accident-related costs.

There was no way to ensure that the driver who was at fault would be able to pay out those damages, so regulations were put in place.

Massachusetts and Connecticut became the first states where car insurance became compulsory in 1925. Other states followed suit and car insurance became state-regulated. 
The pros of compulsory car insurance are:
It eliminates the risk that at-fault drivers will be unable to pay out damages.

It can be cheaper than being responsible for covering the damages on your own.
The cons of compulsory car insurance are:
Not all drivers can afford car insurance.

Drivers can save money — provided they never get in an accident. 
How Much Does Car Insurance Cost in my State?
Some states have compulsory car insurance, some don't.

In New Hampshire for example, you aren't legally required to have insurance, yet you are still responsible for covering all damages you may cause.

As car insurance is regulated on a state, rather than federal level, each state has different minimum legal requirements.

This is the reason for the difference in car insurance rates by state.

It is also the reason why drivers in Michigan pay around 80% more than the national average — personal injury protection (PIP) insurance is legally required.

This entails paying for unlimited medical coverage for accident-related injuries.

The downside is that insurance companies compensate for these costs by increasing the rates.

So there you have it. Costs can vary greatly by state, which is why you get quotes based on your ZIP code.

Now, let's check out the states with the highest and lowest rates. 
Top 10 states with the cheapest rates:
State:

Average 6-month premium

Average monthly premium

1. Maine

$467

$77

2. North Carolina

$477

$79

3. Virginia

$502

$83

4. New Hampshire 

$518

$86

5. Hawaii

       

$522

$87

6. Ohio

        

$523

$87

7. Iowa

        

$553

$92

8. Vermont

$577

$96

9. Idaho

      

$582

$97

10. Indiana

$582

$97
Top 10 states with the most expensive rates:
| | | |
| --- | --- | --- |
| State:  | Average 6-month premium | Average monthly premium |
| 1. Michigan | $1,548 | $258 |
| 2. Louisiana | $1,189 | $198 |
| 3. Florida | $1,154 | $192 |
| 4. Kentucky | $1,104 | $184 |
| 5. Rhode Island | $1,051 | $175 |
| 6. Nevada | $986 | $164 |
| 7. California | $934 | $155 |
| 8. Delaware | $901 | $150 |
| 9. Oklahoma | $893 | $148 |
| 10. Colorado | $878 | $146 |
Cheap Car Insurance
By now you have probably figured out that the best way to determine the cost of your insurance, is to talk with an insurance broker or agent.

Everything from your driving history to your age and location can affect the cost — some factors more than others.

Some insurance companies will only slightly increase your rates if you've been caught texting while driving, while others will bump up your premium.

Then there are those that don't care much about your credit history and those that judge you for your high credit utilization rate.

Ultimately, the best way to find cheaper rates is to compare car insurance quotes. 
That said, there are some insurers that are known for their lower rates.

These are some of the companies that offer cheap car insurance policy options for minimum required coverage:
Country Financial — $405

National General — $414

USAA — $415

Amica — $458

Safeco — $475

Geico — $478

Auto-Owners — $519

Kemper — $531

The Hartford — $537

CSAA — $543
Note: when you do your car insurance comparison, keep in mind that USAA is only available to military members, veterans, and eligible family members.  
Best Cheap Car Insurance in 2020
We all strive to reduce our costs whenever we can.

After all, the latest consumer spending stats show that transportation costs are no joke.

Yet, no one will advise you to skimp out on car insurance. The more comprehensive your coverage is, the better.

And this is why it is recommended to compare auto insurance quotes for the same coverage. Just to get a general idea of which company offers a lower rate.

If you are not sure where to start, then take a look at the highest-rated and cheapest companies.
USAA is not available for everybody, however, military members, veterans and their families may be eligible.

If you qualify, then, by all means, this is probably the cheapest car insurance you can get.
They have the best rates for those with a good driving history.

The minimum coverage will cost you an average of $415.
For those of you that don't qualify for USAA, GEICO car insurance is your best option. 
They have good rates for those with good driving history, as well as for those with recent accidents and poor credit.

The minimum coverage will cost you an average of $478.
How to Save on Car Insurance?
There are things you can change and then there are things that are out of your control.
Both of these affect your insurance costs, but at least there is some hope of improving the rates you get.

For starters, have you tried not being a teenager?

Jokes aside, here are some ways in which you can save some money on car insurance.

1. Shop around.

Look into the various insurance policies offered. Get a quote from multiple companies and compare their car insurance rates.
You can never know which one has the best rate for you.

2. Bundle your insurance.

We are going to assume that your car isn't the only thing you are insuring.
Bundling all of your different policies for a better rate can also result in car insurance savings. 
See if you can get health insurance, home insurance, life insurance and auto insurance at the same company.

3. Improve your credit score.

There isn't a quick fix for anything. But, if you manage to pay your bills on time and have a credit utilization ratio of around 30%, you will in time improve your score.

4. Raise your deductible.

By doing this, your out-of-pocket costs will be higher when you make a claim. However, it is a sure way to reduce your premium.

5. Check if you qualify for a discount.

Some companies offer discounts for drivers with low mileage, drivers who have installed safety features in their cars, good students, and drivers who pay for a 6-month or yearly insurance at once. 
Car Insurance Cost Calculator
Wondering how much your car insurance will cost?
No worries, we've got you covered (pun intended). 
Here are some cost calculators you can use to check your average car insurance cost:
After getting a quote from multiple companies, you may find that the costs are somewhat similar. Or not!
Which is why your research shouldn't stop there. 
There are a few more things you need to find out.

You get what you pay for, right?

So, let's see:
Best Car Insurance
When choosing an insurance provider, people value different things.

Some go with the cheapest option available, some opt for the policy with the most comprehensive coverage.

And then there are others who go with the insurance company that makes the whole process of choosing a policy or filing a claim hassle-free.

Here is a list of some of the best auto insurance companies, which will hopefully help you reach a decision.
We already mentioned that USAA has some of the cheapest policies out there — with a catch: it is only available for military members, veterans, and eligible dependents.

Nevertheless, if you are eligible you can take advantage of their affordable coverage and discounts.

If you haven't been in an accident for 5 years, you won't pay high premiums.

They also offer special coverage for Uber and Lyft drivers.

With USAA, you can also get a good student discount, family discount, bundle discount and many more

GEICO is constantly rated as one of the top auto insurance companies, and for a good reason.

Like USAA they will also forgive you for the accident you caused 5 years ago.

You can also get a discount for installing some safety features, such as airbags, anti-lock brakes, etc.

Some military members are also eligible for a discount with GEICO.
Our list of car insurance companies continues with Erie, which offers some extra coverage such as travel expenses or pet injury coverage.

They also have new car protection — if your car is less than 2 years old and totaled, they will replace it. However, this is not available in all states, so make sure to check with the insurance agent or broker.

Amica is also one of the best insurance companies out there, as they offer some free extras.

This insurer will repair your auto glass and airbag if it deploys, and replace your locks if you lose your keys.
Progressive offers discounts if you go paperless (receive your bills online), if you pay your 6-month premium upfront, along with a multi-car discount, a student discount and many more.

What is interesting about this company is that they also offer a discount if you add a teenage driver to your policy.
As another one of the top rated car insurance companies, Travelers offers many of the same discounts, including a homeownership discount, discount for having no gaps in coverage, discount for paying electronically, discount for driving a hybrid car, etc.
Most of us are looking for cheap car insurance to save money, but with Allstate, you can actually make money.

If you haven't had an accident in 6 months, they will give you a bonus for driving safely!

You can also get a discount for using an app that tracks your driving habits.
State Farm is one of the largest car insurance companies.

Like Allstate, they also award you for safe driving. You can get a discount after your driving has been analyzed and determined safe, as well as if you undergo a driver training course.
American Family offers all of the usual discounts that most insurance companies have, but they also offer a discount for young drivers who do 40 hours of volunteer work. Well, that's a novel way to get cheap insurance. 
Key Takeaways
You are now aware of all of the pricing factors when it comes to car insurance, as well as some of the ways in which you can reduce your costs.

Let's sum things up:
Car insurance is state-regulated and the legally required minimum insurance determines the minimum price. 

If you want the lowest

car insurance prices

, you can get the minimum coverage.




Only do this if you don't have any assets to protect.

You can lower your premium by driving safe, improving your credit score, bundling your insurance and raising your

deductible

.

Compare quotes from multiple companies to find out which has the cheapest rate.
Let's not forget the best trick there is for lowering your costs:
Get married and be in your fifties.

Insurance companies will hate you.

And that is all there is to know about the average car insurance cost.
WHAT WE HAVE ON THIS PAGE