47+ Fast Food Industry Statistics 2020 [Order Up!]
McDonalds
KFC
Burgers…
Some of us use fast food as a reward. 
You know: "I worked a lot today, I deserve a burger."
For now, let's concentrate on fast food industry statistics worldwide:
Fascinating Fast Food Industry Statistics (Editor's Choice): 
The average primary meal portion size increased by

124%

between 1986 and 2016.

Yum Brands is currently worth

$23.6 billion

globally.

Global fast-food industry revenue this year will reach

$781 billion

.

All of the

top ten fast-food brands

globally in 2019 have their roots in the United States.

The online food delivery market will be worth

$122,739 million

in 2020.

China is

the largest market

for KFC outside of the United States.

McDonald's is the

world's most valuable

food brand in 2019.

66.18%

of Americans visited McDonald's in 2018.
Hold onto your hats, that's just a drop in the ocean of fast food industry statistics. 
Popular brands like Burger King and McDonald's duke it out for their share of the loot globally. 
And who can blame them? 
At $276.7 billion, the US market accounts for 34.4% of the global revenue.
How much is the global industry worth? 
$781 billion annual revenue 
Impressed yet? 
With 830,400 businesses employing 13,114,684 people, the fast-food industry contributes significantly to the world economy. And the global waistline, but that's a topic for another day. 
Love it or hate it, you certainly can't ignore the global fast-food industry.
Did that whet your appetite? Then let's dive right into the global and American fast-casual restaurants industry analysis. We'll start with a short explanation of what the two primary service models within the industry are. 
Then we'll move right on to the hard-hitting stats. 
Fast Casual vs. Quick Service 
Fast food restaurants models fall into one of three categories:
Quick Service

Casual Dining

Fast Casual
Quick Service Restaurants 
Examples include McDonald's, KFC, and Taco Bell. 
Best described as cheap and cheerful. This model has run of the mill food and limited menus. The restaurant will often have tables, but there's no table service. The employees prep the food fast. 
There have been some murmurings of cultural degradation. Some people feel that the ethnic food offered in some of these places is inauthentic. While a lot of Americans associate Taco Bell with Mexican cuisine, they're only experiencing a very tiny part of the food. 
Food concerns aside, these restaurants use bold colors and energetic music to get you to eat and leave faster. These are volume businesses. 
Casual Dining Restaurants
Examples include Applebee's and The Olive Garden.
These are usually sit-down restaurants that have a more varied menu. They also often serve alcohol. The difference here is that you'd be more likely to take a date here. They provide a nice night out when consumers are price sensitive.
The atmosphere is more relaxed. Understated decor and music contribute to the ambiance.   These restaurants understand that you're liable to order more if you stay longer. They're quite happy to accommodate diners that stay later  to maximize the spend per table. 
Fast Casual Restaurants 
This is a hybrid between the previous two. These models have a more varied menu and freshly prepared food that's quick to make. You'll be able to take a date here as well, but you might not be able to order alcohol. 
Expect an interesting blend between cuisine and the colors on the walls. The colors will tend towards more cheerful, though not to the same extent as is the case with the Quick Service Restaurant (QSR).
Fast Food Industry Analysis 2020
Now that we've gone through the most frequently asked questions, it's time for our analysis to begin in earnest. We'll focus most of our attention on the home of fast food – America. 
1. Global fast food industry revenue this year will reach $781 billion.
(Source: IBISWorld) 
This statistic includes all types of eateries globally. The American fast food industry makes up 32.7% of the global market. 
We'll repeat – global market.
2. There were 194,395 franchised QSRs in the United States in 2019. 
(Source: Statista) 
Americans love their franchised food. Everyone has their favorite go-to meal.
3. The fast food industry yearly revenue in the United States has grown by almost $90 million over the last decade. 
(Source: Statista) 
Over the last ten years, advancements in technology have made us busier than ever. Ordering a round of fast food is a simple option for dinner. Especially when time is short. 
The quick service restaurant industry managed to earn $273 billion in the US for 2019.
4. The QSR industry employed 3.88 million employees in 2019.
(Source: Statista) 
Most of these positions are entry-level and ideal for school leavers or retirees wanting to earn extra money. The pay rates are fairly low. 
5. The number of people employed in QSR has increased by 35% since 2010. 
(Source: Statista) 
Considering the robust fast food industry growth statistics, this shouldn't come as much of a surprise. Running a full-service restaurant comes with many inherent risks and some hefty overheads. 
Franchise fees are also high, but buyers get a roadmap on how to run the business and an established brand. With society's increasing focus on moving faster, it makes sense that the QSR is becoming a more popular model. And that's why they're finding it necessary to hire more employees.
According to estimates, there were 3.88 million people working in the quick-service restaurant franchise industry in 2019.
6. California had the highest number of QSR in the country in 2018.
(Source: Statista / World Population Review) 
This is hardly surprising considering that California is the state with the highest population in the United States. Wyoming, the state with the lowest population, has the least number of QSR.
An American's Eating Habits
It's something of a generalization to say that Americans eat poorly. There is a growing movement in the country to choose healthier, whole food options. Unfortunately, according to health care spending statistics, the damage is done. 
Obesity is an epidemic in the United States, and there are high incidences of the so-called "lifestyle diseases" (like diabetes) across the country. 
Fortunately, it's not all doom and gloom. If we look at consumer spending statistics, Americans are turning to healthier options more often. 
7. 43% of Americans always look for healthy choices when shopping.
(Sources: Statista) 
As you'll see in the graphic below, 43% of citizens always look for healthy food when they're stopping. Grocery shopping statistics suggest that a little over a quarter of Americans feel it's easy to find healthy food. 
Also, 52% said that they were sometimes scouting for healthy food items.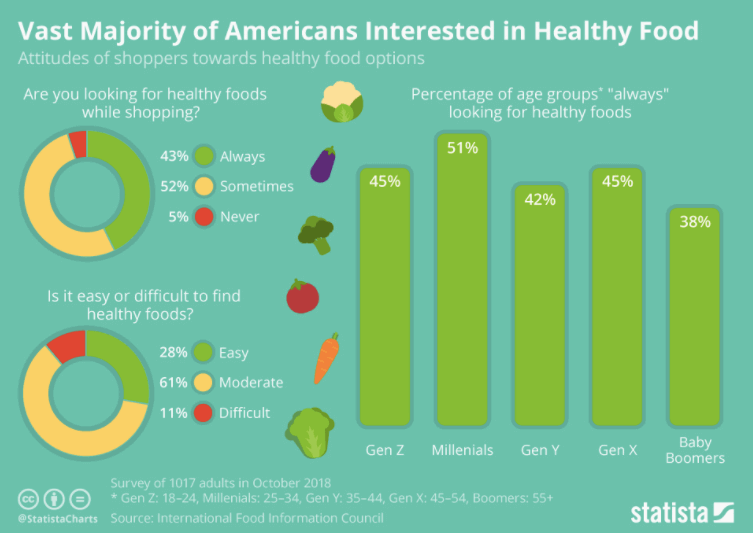 (Source: Statista)
8. The percentage of Americans who eat fast food regularly is 36%.
(Source: Statista) 
Just over a third of the American population eats fast food daily. Overall, though, Americans look for healthy options when shopping. 
According to estimates, there are 194,395 quick-service restaurant franchise establishments in 2019.
9. 39% of Americans look for healthy options when they're eating fast food. 
(Source: Statista)
Fast food is generally not the healthiest option. This is changing slowly, though, as consumer demand for healthier options increases. Fast food consumption among adults is high but also evolving to reflect a healthier eating mindset.  
10. American obesity rates increased by 17% between 2007 and 2017.
(Source: Statista) 
And this is despite the fact that  gym memberships are up by 21% and stress levels are down 23%. Perhaps the chart below can shed more light on America's obesity epidemic: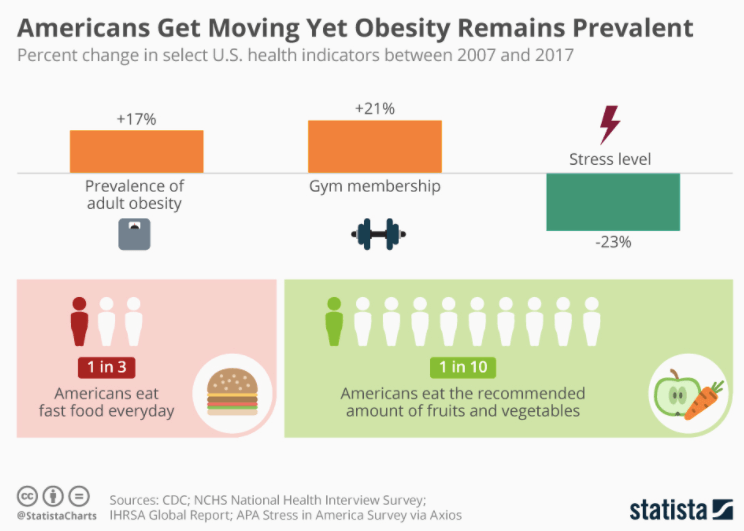 (Source: Statista)
Could the fact that one in three Americans eat fast food every day be a factor? With the most common fast food ingredients being fat and highly processed carbs, it's hardly a healthy eating choice. 
Considering that just 10% of Americans eat the recommended allowance of vegetables daily, junk food might be a significant factor. 
Portion Sizes
Portion sizes globally have been sneaking up.
Are you overeating? Think of it this way – a piece of meat should be no bigger and no thicker than the palm of your hand. So, a burger patty, technically, hits the right note. What about when you order a steak instead of a burger?
Let's examine the takeout statistics that show that portion sizes have been creeping up over the years: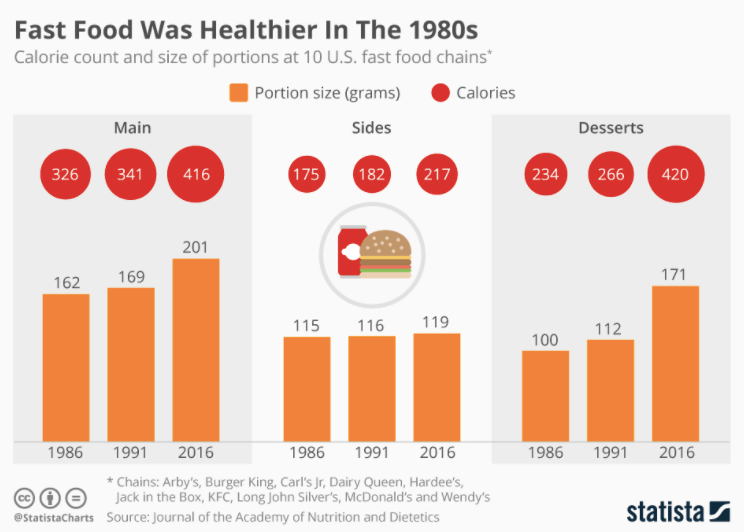 (Source: Statista)
11. Fast food facts show that the average main meal portion size increased by 124% between 1986 and 2016.
(Source: Statista) 
From 1986 to 2016, the average portion size increased from 162 grams to 201 grams. The calorie count increased by 127% over the same period.
12. The average size of the sides stayed relatively consistent between 1986 and 2016.
(Source: Statista) 
From 1986 to 2016, the average side portion size increased by only 103%. The calorie count, by comparison, increased by 124% according to fast food health statistics.
13. It's desserts that have made the most gains in size between 1986 and 2016.
(Source: Statista) 
Dessert portion sizes have increased by 171% in size. The number of calories has increased by around 179%.
It's far from healthy, but refusing a dessert is hard. We're speaking from experience here.
Fast Food Industry Market Share
We tend to think of fast food brands as KFC, or Taco Bell, and so on. Would it surprise you to learn that most of the top fast food brands are part of large corporate companies? Let's learn more about the brands that we've all grown to love. 
14. Yum Brands is currently worth $23.6 billion globally.
(Source: Macrotrends) 
Yum Brands is the world's largest conglomerate in the food industry. It has 38,000 locations in 120 countries globally. The company has four different segments: 
International

United States

India

China
15. What do Taco Bell, KFC, and Pizza Hut have in common? 
(Source: Business Insider)
Can you guess?
That's right:
A fast food industry analysis shows that they're all owned by global conglomerate Yum Brands. 
16. Burger King, Tim Hortons, and Popeyes are also all subsidiaries of one big brand.  
(Source: Business Insider) 
They're all subsidiaries of Restaurant Brands International.
A big happy family.
17. All of the top ten fast food brands globally in 2019 have their roots in the United States.
(Source: Statista) 
America is considered the home of the fast food industry. Considering that the top ten brands all had their start in the United States, there's a good reason for that assumption. 
18. Chick-Fill-A was the top brand in America in terms of sales per unit.
(Source: Statista) 
The brand is considered one of America's favorite healthy fast casual restaurants. The popularity of the restaurant is, in part, thanks to an increased awareness of trans fats. 
The food doesn't contain trans fats.  
McDonald's – Are We Loving It?
McDonald's is arguably the world's favorite fast food brand. It was undoubtedly the most valued brand in 2019. Founded in the 1940s, the food quickly became popular. In 1954, the brand was "discovered," and that's when franchising first came up.
It wasn't long before McDonald's was a household name for the vast majority of Americans.
Let's look at the fast food kind and see what sets it apart. 
19. McDonald's is the world's most valuable food brand in 2019.
(Source: Statista)
McDonald's was worth $130,368 in 2019. The closest runner-up, Starbucks, came in at just $45,884.  McDonald's has come up with the winning formula. Considering that burgers are one of the most common fast food meals, this is hardly surprising. 
20. McDonald's brought in $21.8 billion in revenue globally in 2019. 
(Source: Statista) 
This is still down on their 2013 $28.11 billion bumper year. Is it an indication that consumers want healthy fast food options instead? Only time will say for sure.  
21. McDonald's franchise sales increased from $41.3 billion in 2006 to $90.76 billion in 2019.
(Source: Statista) 
The brand is the firm leader when it comes to franchising. This is reflected in the increasing costs of purchasing a franchise. It seems that it's challenging to match the global need for fast food consumption.
22. McDonald's comes in third in terms of sales in the United States.
(Source: Statista) 
It seems that McDonald's has spent too much time focusing on their overseas market. Part of the reason is that the U.S. market is quite saturated already. Despite the giant's dominance in terms of fast food market size, it does look like that crown is on shaky ground if it's not the most popular option in its home country. 
23. Sales at McDonald's in America accounted for just over 37% of its global revenue.
(Source: Statista)
Despite the popularity of the brand in the States, the global market accounts for the majority of sales in 2019. 
Burger King
How does this iconic brand stack up in the history of fast food? Thanks to smart advertising and a focused product offering, pretty well. The company doesn't come close to the sheer might of McDonald's but changing customer attitudes toward health could see it becoming a real challenger.
It's an open secret that McDonald's foods have a long shelf life. We experimented at our offices with one of their typical fast food items – French fries. We left a packet of McDonald's fries in one of the storerooms. We left the chips in the container they came in, just closing off the lips of the box.  
What we found was disturbing. Despite it being a warm summer, the fries looked the same after a week, and then after a month. If you didn't know any better, you'd have assumed that they were leftover from the day before.
Don't believe us? 
Then try it for yourself and let us know what you discovered after a month. 
24. According to the fast food industry revenue 2019 stats, Burger King made $1.8 billion.
(Source: Statista) 
After a rough couple of years, Burger King's performance this year showed an increase of 8% on 2018's figures. 
25. The Burger King brand is the 7th most valuable franchise globally, making it one of the top fast food chains 2019.
(Source: Statista)
The brand was worth $7,063 million in 2019.  
That makes in number 7 in the top ten most valuable franchises worldwide!
26. There were 18,838 Burger King franchises in 2019.
(Source: Statista) 
The chain hasn't quite achieved the same high fast food market share 2019 as McDonald's, though. 
Still, not bad. Not bad at all.
27. Burger King curtailed its advertising spend by $4 million between 2017 and 2018.
(Source: Statista/ YouTube/ Good Things Guy) 
The company does have some pretty clever advertising tricks, though. According to fast food consumption statistics 2018, Burger King made it possible for clients to order a Whopper for $0.01 as long as they were near McDonald's.
The company took another swipe at McDonald's with one of their latest ads. They made the point that their burgers are preservative-free, and so did decompose over time. 
It wasn't long before South African fast food brand, Nando's, decided to get in on the action.
28. Fast food statistics 2018 show that Burger King restaurants have improved their customer satisfaction index by 9 points since 2000.
(Source: Statista) 
This is impressive because customer service at QSR restaurants is generally mediocre at best. The staff are typically paid minimum wage and asked to work long hours. McDonald's scores the lowest score in the country with just 69 points.
Subway scores the highest score with 80 points.
29. America has the largest number of the world's top fast food chains 2018, McDonald's.
(Source: Statista) 
Americans had 13,905 branches to choose from in 2018. Canada boasts the second-largest number of branches with 1,472 in 2018. 
30. McDonald's spent $760 million on advertising in 2018.
(Source: Statista) 
This partially accounts for the brand's value is so high. It also gives an inkling as to why McDonald's' had the highest fast food industry revenue in 2018. Dominos, by contrast, spent just $418 million on advertising in the same year. 
31. Ironically, McDonald's became famous for the quality of its food and fast service.
(Source: Statista/ Dollar Times) 
Founded in the 1940s by two brothers, McDonald's served top-notch food, prepared from scratch. Ray Kroc, a salesman, saw the potential for the brand in 1954. He envisioned a national chain. It's unlikely that he envisaged just how successful the brand would become.
Could anyone have foreseen the current market size of fast food restaurants back then? It's highly unlikely that they would've. 
The brothers sold their rights to the company in 1961 for $2.7 million. That would be worth about $23,282,879 today.
32. 66.18% of Americans visited McDonald's in 2018
(Source: Statista) 
McDonald's is an American institution. Fast food statistics show time and time again that McDonald's beats out the competition.  
33. McDonald's dropped its company-owned stores from 19.1% in 2012 to just 8.4% stores in 2017.
(Source: Statista) 
We expect McDonald's to reduce direct ownership of stores even more in the future. Managing a franchise and managing your own fast food companies are two different things. While both can be profitable, once a franchise model matures, it'll usually be fine for the original store owners to take a step back.
34. McDonald's dropped its number of directly employed people by 53% between 2012 and 2017.
(Source: Statista) 
This is partially a factor of the company reducing the number of stores that it runs. It's also because technical advancements made it possible to reduce the number of employees required.
35. According to fast food statistics, McDonald's spend $300 million in 2019 on Artificial Intelligence.
(Source: Fast Company) 
McDonald's has already been using AI to identify when someone using their app comes near their outlet. Now they're planning to take things to a whole new level. 
With this latest foray into AI, the company aims to identify current trends and use then to capitalize on those trends.
The strategy is to cement its leading position among the top fast food chains 2020.
Say, for example, that ten clients order a specific side. McDonald's AI could recommend that side to new clients or create a personalized offer to clients in the area. 
36. KFC And Burger King were McDonald's main competitors in 2019.
(Source: Statista) 
There's quite a way to go before either company catches up, though. All three feature in the list of the top fast food restaurants globally. 
KFC
KFC is another one of McDonald's main competitors. 
Kentucky Fried Chicken was founded in Salt Lake City, Utah, in 1952. "Colonel Sanders" was Harland Sanders. The company switched its name to KFC in the 90s in an attempt to promote a healthier image.
The company offers a range of chicken-based products. Their fried chicken is still a firm favorite.
Fun Fact: At KFC in Indonesia, KFC comes with rice and not French fries.
37. According to fast food industry statistics, both KFC and Burger King offer meatless options that promise to be healthier. 
(Source: Statista)
Want to know how these compare? The chart below explains the differences in more detail.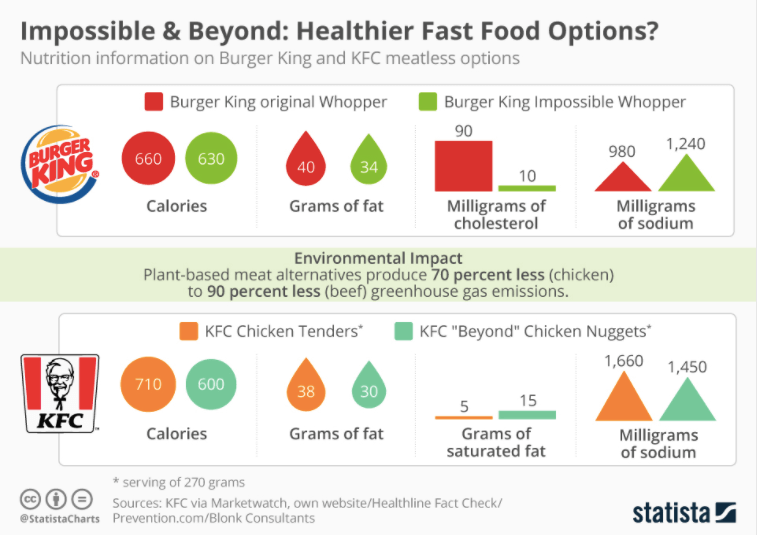 (Source: Statista)
Next:
38. The KFC brand is worth $17,205 million globally. 
(Source: Statista) 
KFC ranks as the world's third-most famous brand. It loses out to McDonalds and Starbucks for the top two spots.
39. There were more than 24,104 KFC restaurants globally in 2019.
(Sources: Statista)
According to fast food industry statistics, KFC is represented in 120 countries around the globe. You might find small differences in the menu, depending on the country you're in, but KFC is present in almost half the countries in the world.  
40. Between 2018 and 2019, 1,500 new KFC outlets opened globally. 
(Source: Statista) 
Fast food industry revenue statistics showed that the brand showed strong year-on-year growth during this period. 
41. China is the largest market for KFC outside of the United States.
(Source: Statista) 
The Chinese like the taste of KFC. They have over 5,000 branches across the country. 
42. KFC is represented in 1,100 towns across China.
(Source: Business Insider)
Culinary science offers an interesting blend of traditional KFC options and Chinese favorites. Don't expect to find the same menu that you do in the United States, though. KFC in China offers local dishes such as rice porridge and egg tarts. If you like it spicy, try the Dragon Twister. 
Food Delivery
Food delivery options may have played a part in fueling the popularity of fast food options. It's also one of the most interesting emerging fast food industry trends. Interestingly enough, while food delivery is relatively standard today, it's had a relatively short history.
It's a pretty convenient option – just open up the app, order from your favorite drive-in restaurants, and pay. A short while later, your food is at the door, and you're ready to eat. It doesn't get much more convenient than that.
In this section, we'll look at how the food delivery industry and the fast food industry have a mutually supportive role. 
43. The online food delivery market will be worth US$122,739m in 2020.
(Source: Statista) 
Part of the reason that this industry is so popular is convenience. It cuts a lot of inconvenience to have your food delivered to the door. We can, therefore, expect impressive revenue growth. 
44. Experts predict that the industry will experience a compound annual growth rate of 7.5% between 2020 and 2024.
(Source: Statista) 
As society gets busier, it makes sense for us to take advantage of these convenient options. It's not just the time saved in preparing a meal, but also not having to fight through traffic or stand in line to get the food. 
45. Platform-to-Consumer Delivery models, like Uber Eats, comprise the largest market share in $62,798m in 2020.
(Source: Statista) 
Platforms like Uber Eats make things extremely convenient for consumers. It makes sense for the best fast food restaurants to partner with Uber if they don't offer deliveries themselves. 
Clients can order from more than one eatery on one order. They're able to order on a secure website from a range of options. Experts predict the market share of platform delivery models will be $62.798 million in 2020.  
46. The food delivery model is most prevalent in China.
(Source: Statista) 
The forecasts are that revenue from food delivery services in China will bring in $45,909 million in 2020. Experts predict that the market size of fast food industry delivery services will grow exponentially. 
47. Uber Eats has a 27% market share in the United States.
(Source: Statista) 
The company has made great strides in the American market. The company's market share had increased from 3% in 2016 to 27% in 2019.  
48. By 2024, the value of the platform eats model in the United States will be $62.3 million.
(Source: Statista)
Uber Eats was a natural extension of the Uber brand. It provides registered drivers with yet another income source. 
49. The United States quick-service restaurant industry was worth $256 billion in 2018.
(Source: Statista) 
Fast food is big business in the United States. It's a convenient option, especially considering the long working hours most of those in the United States have. 
And people seem to love it.
In Conclusion
Now that you understand more about the fast food industry statistics, you'll never look at a burger in quite the same way, will you? 
There's no question about it; this multi-billion-dollar industry keeps growing from strength to strength.
As the market continues to mature, it'll be interesting to see what changes will be forthcoming. The burger war adverts listed above point to an industry-changing its focus to a fresher, healthier model. It'll be interesting to see what the industry and fast food chains will look like in fifty years. 
Fast food industry statistics are an eye-opener.
See you around on SpendMeNot, guys!
FAQ
How many fast food restaurants are there in the US?
In 2019, there were 194,395 fast food restaurants in the United States. This figure excludes mobile options like food trucks and home businesses that deliver. 
Who offers the healthiest fast food?
Chipotle offers the healthiest fast food. The chain uses only organic ingredients and offers lots of salads and veggies. Chick-Fil-A comes in second because the food contains no trans fats. 
Is the fast food industry growing?
The fast food industry is growing in the United States. The sector grew by 8% between 2011 and 2018. The industry far outpaces the country's annual economic growth rate. It seems like there's still plenty of opportunity for growth in the Fast Food Restaurants industry in the US.
How big is the fast food industry in the US?
The fast food industry is worth $781 billion this year. Business is booming. 
Who consumes the most fast food?
Junk food statistics show that Americans consume the most fast food. It's part of the culture to grab a takeaway once a week or so. Men consume more junk food than women do, particularly when it comes to lunch. Women are more likely to consider junk food as a snack rather than a meal.
Junk food consumption in the United States is on the rise. 
Why?
It's mostly socioeconomic factors that contributed to the higher consumption of fast food across all race groups. Fast food in America is relatively inexpensive and usually easier to afford than healthy meals. Also, people now work longer hours and so have less time to prepare meals from scratch. 
What percentage of people eat junk food?
37% of Americans eat junk food on any given day. Dinner is the most common fast food option that Americans choose. Lunch comes in a close second, and breakfast comes in last as the most popular junk food.
How much junk food does the average person eat?
Americans spend $4 out of every $10 of their food budget on junk food. About 40% of the average American's diet consists of junk food. 
How many times a week does the average American eat fast food?
The average American eats fast food between one and three times a week. Reasons for this include convenience and merely a desire to enjoy their favorites.
Has fast food consumption increased?
Fast food consumption has increased globally. This is partially due to the global expansion of the industry. It's also, in part, due to the increase in portion sizes offered by the fast food companies.