19+ Massive Millennial Spending Statistics
WHAT WE HAVE ON THIS PAGE
Millennial spending habits are, well…
…different from those of Baby Boomers.
Millennials are next in line to become the most essential spenders on the market.
That's why millennial spending statistics are super important.
This age group, also called generation Y, has new priorities when it comes to spending their money, so…
Let's take a look at the changes in consumer trends brought on by the changes of generations.
Millennial Spending Statistics (Editor's Pick):
60% of millennials would spend more than $4 on coffee.
Millennials' income will reach an estimated $8.3 trillion by 2025.
86% of millennials are online shoppers.
Half of millennials are regular donors.
51% of all new investors in 2020 are millennials.
General Facts and Stats on Millennial Spending Habits
As always, we start with the big picture.
1. 47.9% of millennials are homeowners.
(Source: Apartment List)
If you were wondering, "What are millennials buying," well, it isn't houses. According to a research report, less than half of millennials are homeowners. In comparison, 69.1% of gen Xers and 78.8% of baby boomers possess a house.
And it doesn't come as a surprise considering the property market crash in 2008. As history has taught us, bubbles and finances don't mix. And the 2008 housing bubble seems to have affected older millennials the most, as they have now become a generation of renters. Not to mention the impact your student loan debts can have on the ability to buy a house.
Besides the low general homeownership rate, there is also a delay in buying houses. A large number of millennials in the US postpone buying a home until they have adequate savings. The delay can also be attributed to the fact that people nowadays aren't in a rush to get married and settle down.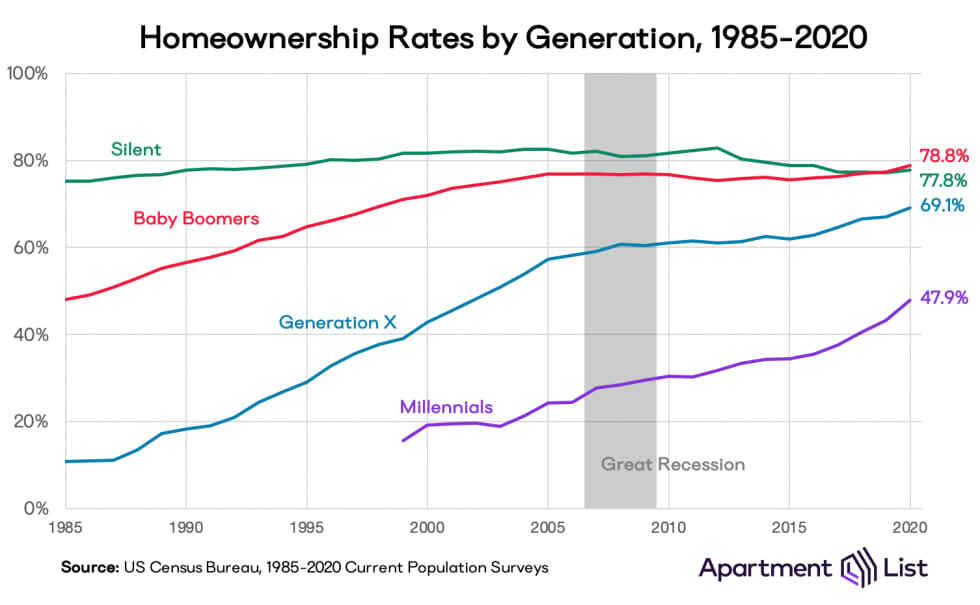 (Image source: Apartment List)
2. Millennials will have spent more than $90,000 on rent before they reach 30.
(Source: RentCafe)
Many millennials don't exactly have a choice — they can't afford houses, so they have to rent. Since the financial crisis in 2008, rent has generally increased while incomes have decreased. Considering this, it's obvious that most of the millennials' money goes towards paying rent.
This wasn't the case for previous generations. Baby boomers and gen Xers had better salaries in their twenties. Baby boomers spent around 36% of their wages on rent, while millennials spend approximately 45%. Gen Xers also had it a bit better, with 41% of their salary going to rent.
Interestingly, among millennial consumers, there is declining optimism about the prospect of homeownership. In 2020, 18.2% of millennial renters said they plan to rent forever, up from 12.3% in 2019 and 10.7% in 2018.
3. Millennials' average monthly spending on entertainment is $164.
(Source: McKinsey)
Some millennial spending statistics show that this generation is about "nownership" — focused on experiences rather than stuff.
According to a recent McKinsey survey, people from this age group spend the most on restaurants, movies and sporting events — an average of $164 a month. Around $79 of their budget goes to cable TV and video subscriptions. Millennials also pay $74 for personal care services, such as haircuts and manicures. Gym memberships and fitness classes take up around $40 of their monthly income.
4. 41% of millennials admit spending more on coffee than on their retirement plans.
(Source: Acrons)
If there is one thing you need to know about millennial spending habits, it is that they like to splurge on, "excuse me, a damn fine cup of coffee," as fictional FBI agent Dale Cooper of Twin Peaks fame would put it.
According to a recent survey by the money app Acorns, over 40% of millennials admitted spending more on coffee in the past year than they had invested in their retirement accounts.
And how much are they willing to pay for a cup of coffee?
According to Schwab's 2017 Modern Wealth Index Survey, 60% of millennials would buy a cup of coffee that costs more than $4. And it seems that passion for good coffee is a generational thing. Only 40% of gen Xers and 29% of baby boomers would spend the same amount.
5. 55% of millennials have bought something promoted on social media.
(Source: 5WPR)
Well over half of the generation have bought something spotted on social media. Only gen Zers seem to be more influenced by online platforms like Instagram (58%).
However, some 21% of millennial consumers agree their favorite purchases are worn or used by famous figures, compared to 16% of gen Z.
6. Millennials spend $300 a month on alcohol.
(Source: USA Today)
Millennials spend about $300 a month on alcohol or about $56 per outing. By comparison, gen Xers and boomers said they spend $151 and $97, respectively, on booze each month.
Dining out plays a big role in these costs, as 58% of millennials surveyed order alcohol or an alcoholic beverage when they eat out.
7. Millennial spending power will increase as their income reaches an estimated $8.3 trillion by 2025.
(Source: McKinsey)
In 2015, millennials surpassed baby boomers as the largest living generation in the US. With that leverage, millennials can make or break your brand right now.
If aligning your business to the millennial buying habits, you should consider that they are characterized as:
Value-driven — 40% of millennials are conservative in their purchase decisions. They are budget-conscious risk avoiders who rely heavily on recommendations.
Image-driven — 38% of millennials are likely to live beyond their means as long as they enjoy life through experiences. They follow the latest trends and may even pay more to be among the first to receive a new or innovative product.
Quality-driven — 22% of millennials have definite preferences and consider brands as extensions of themselves. They are willing to overspend to receive high quality.
8. Millennials spend $524 a year on apparel.
(Source: McKinsey)
Apparel is yet another category where millennials are outspending other cohorts. According to median estimates, annually, they buy clothes for $524. That's almost $100 more than baby boomers — the next age group in the chart.
9. 57% of millennials don't have an emergency fund.
(Source: Bankrate)
Less than half of millennials have a rainy day fund or one that could cover a minimum of three months of their living expenses. And just 19% have enough emergency savings to cover at least six months of expenses. This compares to 30% of baby boomers and 29% of gen Zers. To make matters worse, two in three millennials have credit card debt holding them down.
However, we can't say if this is indicative of millennial saving habits or of their low incomes and high expenses. Overall, some 56% of Americans are living paycheck to paycheck.
10. 72% hired an expert for their financial plan.
(Source: Schwab)
Though millennial consumers like to splurge, one-third of them are responsible in terms of financial planning. As the Modern Wealth Index states, 34% of millennials have a written financial plan. In comparison, only 21% of gen Xers and 18% of baby boomers have one.
Besides being responsible for financial planning, millennials aren't opposed to turning to experts for help. Around 72% have hired professional help for their financial plan. What's more, 91% update their plan annually.
11. Over 86% of millennials are digital buyers.
(Source: Statista)
This generation prefers shopping from the comfort of their own homes. According to millennial spending statistics, online shopping was most common among millennial internet users, with a penetration rate of 86.2%.
Separate findings show millennials do 54% of their purchases online. A significant number of them admitted that the reason for this preference is that they compare product features and prices. They also think it is easier and more convenient to research by themselves or message customer support than going to a brick-and-mortar store and asking salespeople for help.
12. 47% of millennials shop on Amazon once per week.
(Source: Jungle Scout)
The older generations may not shop on Amazon a lot (just 10% of the silent generation and 16% of boomers shop on the site weekly), but gen Z, millennials and gen X are big fans.
Nearly half of millennials (47%) say they shop on Amazon at least once a week. And one in 10 say they shop on the site seven times per week or more.
Stores need to keep up with the times and update their websites if they want to cater to millennial purchasing habits. This age group likes to research their products online before buying, and for 34%, the go-to website is Amazon. Google is almost as popular, with 32% of millennials googling info on products when online shopping.
13. Free delivery would convince almost half of millennials to make a purchase.
(Source: Global Web Index)
Online retailers that want to reach this cohort should consider offering free delivery. According to generation Y spending habits, 48% of millennials would find this as an incentive to buy.
Reward programs, loyalty points, free flights and personal assistance are also part of the personalized shopping experience millennials seek.
14. Millennial men working from home spend more on online shopping than millennial women.
(Source: Money Under 30)
The Covid-19 outbreak has made working from home the "new normal" for millions of employees around the world. The change has spurred a shift in consumer behavior and triggered exponential growth in e-commerce. And while the stereotype may hold that women are bigger shoppers than men, the estimated spending habits of millennials show that men make more online purchases.
Some 62.5% of male respondents who work from home reported spending more on online shopping compared to 58% of the females. This excludes groceries, as that seems to be a category reserved for women.
15. 73% of millennials are willing to spend more on sustainable skincare products.
(Source: CBInsights)
The buying habits of millennials continue to drive innovation in the skincare industry. While millennials are generally price-conscientious, 73% are willing to pay more for sustainable products (compared to 66% of average consumers), with a lack of testing on animals as their highest priority.
16. Millennials will account for 45% of car sales in 2021.
(Source: EY)
Currently, this is the generation of Uber and taxi services consumers. But with the millennial spending power increasing and the generation maturing and starting families, buying a car is becoming a priority.
In fact, millennials are expected to lead a car ownership boom in 2021 across the globe, representing 45% of all first-time car owners.
17. Millennials spend close to $3,000 yearly on healthcare.
(Source: MarketingCharts)
The silent generation (born 1920s to 1940s) spends the most on healthcare with a yearly average of $6,619. This doesn't come as a surprise, as the need for healthcare increases with age. By comparison, millennials spend an average of $2,894 per year on healthcare costs. This amount represents around 6% of their annual expenditures.
Healthcare costs can apparently make a big dent in millennials' savings. According to a survey, more than 54% of them delay seeking treatment as it is too expensive.
18. 76% of millennials are pet owners.
(Source: YPulse)
Millennials are a generation of pawrents. YPulse's recent survey found that 76% of them have a pet, with over half reporting taking care of dogs and 35% owning cats.
So, the vast majority of the largest living generation have pets in their homes — making them unquestionably the target market for pet brands everywhere.
And recent millennial consumer trends show that they are willing to give the best care to their pets, willing to pay fortunes for quality products and services for their paw friends.
If you are a pet owner, check out our reviews of the best pet insurance providers.
(Image source: YPulse)
19. Half of millennials donate to charity at least once a month.
(Source: Global Web Index)
If other generations are prone to criticizing how millennials spend their money, they won't have much to say about this. Statistics show that 50% of millennials are regular donors, compared to 42% of gen Zers and just 34% of boomers.
Whatsmore, 74% of millennials provided financial aid to someone in need at least once during 2020. That's the highest rate among any of the generations polled.
Separate survey data reveals that 55% of millennial respondents plan to give at least $500 to charity in 2021.
This is despite the fact that younger generations are more likely to fall into the lower-income bracket. According to the Bureau of Labor Statistics, gen Xers have the highest income before taxes. Hence, they can afford to donate larger amounts. But millennials prove to be more  generous and involved when it comes to philanthropic causes.
20. Millennials plan to spend over $4,000 on travel in 2021.
(Source: AARP Travel)
Millennials' average anticipated travel spend in 2021 is $4,071. This compares to $4,464 a year ago. However, the Covid-19 pandemic meant fewer trips than originally planned in 2020.
Separate data from TripAdvisor shows millennials in search of luxury are at the forefront of rebounding US traveler confidence. According to the survey, 37% of high-income millennials are planning to spend more than $5,000 on an upcoming luxury trip.
Yet another online survey shows that money and work get in the way of millennial spending habits — most of them cited costs and work obligations as reasons that prevent them from travelling.
A poll by Expedia found that millennials, on average, travel 35 days per year. That is more days than generation Z and X, who travel 29 and 26 days, respectively.
Wondering what the average cost of a vacation is? Check out the latest vacation cost statistics!
21. 66% of millennial investors own stocks.
(Source: The Motley Fool)
Millennials are actually avid investors, far more likely to have a brokerage account than other generations. In fact, over half (51%) of new investors in 2020 were born between 1981 and 1996. In 2019, millennials accounted for just 29% of novice players.
According to statistics, the age group's preferred asset class is stocks, followed by mutual funds (47%) and cryptocurrencies (39%).
In Conclusion
What do millennials spend their money on?
Older millennials have similar habits to generation X, and younger millennials are closer to age with generation Z.
Most polls show that they value experiences more than objects, willing to spend more money on food, drinks, and travel. Other surveys show that social media greatly influences millennial spending habits, as it makes them compete with their friends.
One thing is for certain – millennials are worse off financially than baby boomers and Gen Xers. According to statistics from the Bureau of Labor, millennials have higher student debt than gen Xers had at their age.
This hurts their credit and influences their ability to purchase homes. Compared to them, gen Xers had lower student debts, and it wasn't as difficult for them to purchase homes. Safe to say, most of them are spending their money on paying their debts.
We hope you enjoyed our list of curious facts about millennials.
See you around on SpendMeNot.com, everyone!