29+ INCREDIBLE PayPal Statistics to Know in 2023
WHAT WE HAVE ON THIS PAGE
Are you a PayPal user? 
Maybe you are running an eCommerce?
Or you're just thinking about using PayPal? 
Our selection of the latest PayPal statistics will blow your mind either way. 
Why PayPal?
Well…
PayPal is the world's biggest online payment system.
Let's have a look at the surface and see what's there:
Mind-blowing PayPal Statistics (Editor's Choice):
PayPal currently has 361 million active users.
eBay bought PayPal for $1.5 billion, only to separate from it in 2015.
The average PayPal user conducts 40 transactions per year.
87.5% of online buyers use PayPal.
PayPal had $5.46 billion in net revenue in 2020
PayPal accounts for 22% of online transactions in the US.
The average PayPal user has $485 in their account.
Now that we have seen the tip of the PayPal iceberg…
… let's dive into the Deep!
Fascinating PayPal Stats and Facts
PayPal has almost 300 million customers, over 20 million active merchant accounts, and billions of transactions conducted every year. 
PayPal's community of online buyers and sellers relies on the guaranteed safe payment over the internet using the customer's credit card or bank account. It takes their information and uses it to establish payments to other sites.
Let's get started: 
1. PayPal currently has 361 million active users.
(Source: Statista)
As of the third quarter of 2020, PayPal recorded a 22% or 70 million year-on-year growth. This resulted in a total number of 361 million active users registered on the payment platform.
You can see the growing number of active PayPal users in the graph below.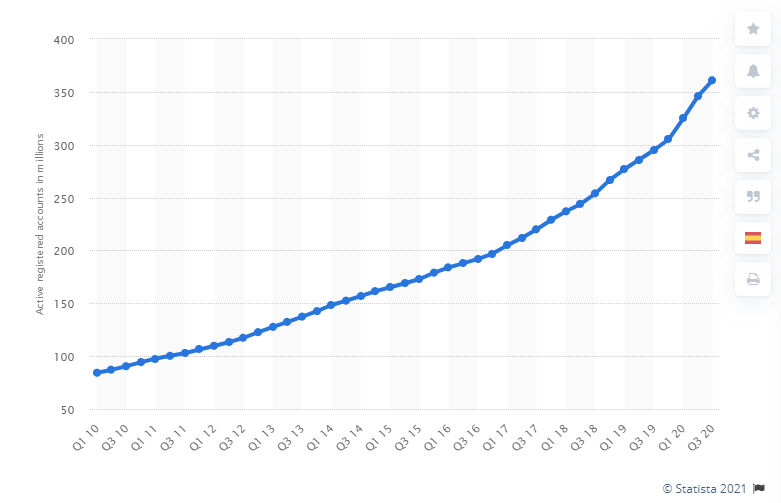 (Image: Statista) 
2. PayPal is making advances in digital wallet capabilities.
(Source: The Motley Fool)
If we take a look at PayPal facts, it's obvious that the company aims to become a fully-fledged tech-based financial institution rather than a simple online payment processor.
Some of the additional services PayPal has recently incorporated include cryptocurrency integration and PayPal credit, with a zero-interest-rate "buy now pay later" feature.
3. PayPal accounts for 22% of online transactions in the US.

(Source: Statista)
According to research from 2018, PayPal is one of the most popular payment methods in the US. Pretty much everyone knows someone who uses PayPal, even if they don't use the company's services themselves. It is also the leading mobile app publisher in the US and has been able to reach approximately half of the country's mobile audience.
4. 87.5% of online buyers use PayPal.
(Source: Buildyourdream)
While 51.2% of online buyers use Visa Checkout as one of their payment options and 45.6% use other options, PayPal remains the most popular payment option in the online shopping game, as evident by this piece of data on PayPal users.
5. PayPal stock rose 116% in 2020.
(Source: The Motley Fool)
PayPal's stock prices more than doubled in 2020, raising its total market capitalization value to over $274 billion.
If you are interested in buying PayPal stock, check out our detailed guide.
6. PayPal recorded $5.46 billion in net revenue in 2020.
(Source: Statista)
During the third quarter of 2020, PayPal's net revenue reached $5.46 billion, which is a significant improvement compared to the $4.38 billion net revenue recorded in the corresponding quarter of the previous year.
7. The average PayPal user has $485 on their account.
(Source: Logica)
According to a recent study, the average American has nearly $500 in their PayPal account, while their physical wallet holds $196 in cash. 20% of those involved in the study said they prefer keeping money on PayPal to keeping it in a regular bank account.
Why Do People Still Use PayPal?
PayPal market share is increasing year in and year out! Meaning that there are still a lot of reasons for people to use the service. It is a reliable source of getting paid particularly if you are working as a freelancer or a remote worker for a foreign company. 
Since there are a lot of people earning for a living this way, PayPal remains a sure way of receiving their payments and organize one's financial transactions in a safe manner.
PayPal Users
The number of PayPal users has surpassed 377 million in 2021 and it keeps growing.
What is particularly useful when it comes to PayPal is the ease of use. You can transfer and receive money from and to almost all parts of the world. You even have the opportunity to pay with a phone if you want. That service is getting more and more popular. 
Now: 
8. PayPal added 15 million new active users by Q3 2020.

(Source: Statista)
2020 was a really good year for this company. The number of PayPal users grew by 15 million between Q2 and Q3 of 2020. This was accompanied by the growth in transactions, payments, and overall usage.
9. The PayPal app has more than 2 million monthly active users in the UK
(Source: Statista)
The number of monthly active users of the PayPal app for both Apple and Android phones in the UK was estimated at 2.05 million in July of 2020.
As impressive as this sounds, the PayPal app usage in the country has actually been on the downward trend since February 2018, when it was 3.7 million.
10. People are 54% more willing to buy when a business accepts PayPal.
(Source: Paypal)
Paypal stats for 2021 show that PayPal is one of the most trusted payment options, especially among US consumers.
Consumers are more willing to make purchases across borders, even with unfamiliar brands, and for high ticket items if the merchant accepts PayPal as a payment method.
11. PayPal has invested $500 million in Uber.
(Source: TC)
With not much additional detail available, PayPal put in $500 million in Uber's stocks, paying $47 per share and raising the company's valuation significantly. A questionable move, considering the fact that Uber is operating with a quarterly loss of $1 billion.
12. Paypal used to provide all new accounts with a $20 bonus for every person they refer.

(Source: Shoutmeloud)
In its early years, PayPal was handing out money to attract users into creating new PayPal accounts. Estimates show that this move cost them $60-70 million, but it paid off. In fact, they reached 100,000 users in the first month the platform went online. 
What is PayPal One Touch?
PayPal One Touch is a service that has been introduced to help people do their transactions faster. Once you leave your account from a device that you accessed PayPal from, the service will immediately log out. 
However, with the use of PayPal One Touch you do not log out. Your account is still logged in until you decide to do otherwise. It helps when doing multiple transactions and payments using different devices. 
And you can enter your PayPal wallet fast and securely. 
As you can see, the service is gaining popularity: 
13. More than 80 million people use PayPal One Touch.
(Source: Business of Apps)
PayPal is constantly looking for ways to improve its user experience, and it definitely struck gold with its One Touch service.
This convenient service allows users to stay logged in on their devices and avoid the stress of continuously logging in for future purchases. Currently, more than 7 million Paypal merchants support the One Touch function.
14. $10 Payments helped lead PayPal to an IPO.
(Source: Fool)
In its humble beginnings, PayPal was charging all new users a membership fee. At first, the fee was $20, later dropping to $10 and eventually $5 when enough users signed up. And then PayPal started rapidly increasing its user base, at approximately 10% per day. 
The drop in fees is what got people to notice the company and learn what is PayPal and how is it used. 
15. PayPal went public in 2002, growing its stock by 55% on NASDAQ in the first year.
(Source: Richtopia)
During the same year, eBay bought PayPal for $1.5 billion. This money provided the PayPal founders with the opportunity to develop the technology that the platform uses even today. In 2015, eBay decided to get rid of PayPal and separated once again into two companies. 
This might have been a mistake as the PayPal market share grew exponentially since then. Furthermore, PayPal decided to completely end its collaboration with eBay in 2020 and is no longer offering back-ended services through them. 
16. PayPal shares its users' data with over 600 other companies.
(Source: The Telegraph)
It might be worrying that a company that holds personal data on nearly 300 million people shares this information with 600 other external entities. However, PayPal assures its users that their data is safe. Considering how many people use PayPal, it's surprising how unaware of this issue most of us are.
Facebook, Apple, and Google are listed among the companies that receive data from PayPal, with Marketing and Public Relations cited as the reason behind the information sharing.
PayPal: Trends and Predictions
With the rise of IT-related jobs, freelance platforms and remote workers, so will the need for PayPal users. Future PayPal facts indicate that the usage is going to grow further perhaps to unexpected levels. 
17. PayPal is the most used online payment service in the US.
(Source: Statista)
Paypal is the most commonly used online payment system, with 90% of respondents having used the service during the year. This indicates a growth of the Paypal market share in the US.
Other online payment methods used by the respondents include:
Venmo – 30%
Google Pay – 21%
Apple Pay – 20%
Amazon Pay – 19%
18. PayPal ended its collaboration with eBay in 2020 after 15 years of service.
(Source: Digital Commerce 360)
PayPal expected its growth for 2020 to be slightly impaired by the fact that it no longer works with eBay, knocking the expected growth down by 1% (to 17%). The latest PayPal statistics imply that eBay will take advantage, as around 45% of the company's revenues came from customers who use PayPal.
19. PayPal supports 25 currencies in over 200 countries or regions.
(Source: PayPal)
Not all parts of the world are equal when it comes to PayPal accessibility. The most popular payment method on the planet is restricted in some parts of the world. For instance, in some countries, you can have a PayPal account and transfer money to a local or US bank account, while in other countries you can have a PayPal account but cannot withdraw money.
20. PayPal has 48 offices in 29 states and countries.
(Source: Craft)
PayPal's headquarters are located in San Jose, California. However, the company has plenty of central offices in Nebraska, Arizona, Malaysia, Singapore, China, and Ireland.
A total of 23,200 people worked in these offices in 2019, which is a 7% increase from 2018.
21. 55% of people working for PayPal are Millennials.
(Source: Ewbermarketing)
Out of 18,000 people currently employed by PayPal, 55% of them are Millennials. According to millennial spending statistics, millennials are super important in the industry as they are not only good for spending but are awesome contributors.  
PayPal History
PayPal was originally launched under the name Confinity in 1998. It was conceived as a security software development company for handed devices. But in 1999, it was changed to a money transfer services for Confinity. 
In 2000, Confinity merged with X.com, an online banking company founded by Elon Musk. Upon acquiring it Musk made the decision to terminate all the other payment apps and focus solely on PayPal. 
In 2001, the company was renamed to PayPal and shortly after in 2002 it was acquired by eBay. However, eBay would spin off PayPal in 2014 into a separate publicly-traded company. 
The history of PayPal can be pretty confusing as it changed hands often. If you are asking who is the current owner of PayPal, you should know that if finally ended in the hands of Daniel Schulman. He acquired it in 2014 once PayPal made their split from eBay.
22. PayPal was voted one of the 10 worst business ideas in 1999.
(Source: Ppcorn)
Back in 1999, PayPal went by another name – Confinity Inc. The software company was established a year later, guided by the idea to utilize PalmPilots to conduct online payments. Well, the idea didn't last long, and the corporation quickly changed its business model to the one we know and use today.
23. PayPal was one of the first companies to abandon Facebook's cryptocurrency.
(Source: BBC)
Facebook's cryptocurrency, Libra, was meant to launch in 2020. However, it quickly lost the support of the online payment industry. The thing is, PayPal was the first one to abandon the project, due to the money laundering concerns behind the cryptocurrency. Just a week later, Mastercard, Visa, and eBay decided to follow suit.
24. The average PayPal user conducts 40 transactions per year.
(Source: Business of Apps)
PayPal stats from 2019 showed that the average PayPal user carries out about 40 transactions per year using the platform.
There is no PayPal spending limit, so these numbers are likely to grow in the coming years.
Venmo Statistics
Before we start off with the stats, let's warm up with some info:
Does PayPal own Venmo?
The short answer is yes. Mobile payment service Venmo is one of PayPal's many acquisition successes. The company was first bought by Braintree for $26.2 million. But then PayPal stepped in a year later and bought the entire Braintree corporation for $800 million.
Venmo allows its account holders to transfer money between users back and forth. The only thing you require is the mobile app. You also have to live in the US to use it. 
Venmo statistics show that Venmo handled approximately $12 billion of transactions in the first quarter of 2018 alone. Like PayPal, Venmo also introduced an instant transfer feature which means that transferring your money takes less time. One doesn't have to wait for the usual 3 to 4 days to receive its money as the usual wire transfer goes. 
What clearly sets Venmo apart from others is the social feature that allows friends to trade with each other. 
How many people use Venmo?
There were around 10 million monthly active users in 2020 and its popularity keeps growing. 
Venmo has a desktop version as well. However, the idea of creating it was to add the social factor. Meaning that if you owe money to your friend you can easily pay him back twice as fast. 
The aim of Venmo is to be a mobile payment system that might certainly appeal to a younger user base. 
Let's see the numbers:
25. Venmo has 52 million users in total.
(Source: Business of Apps)
Venmo is currently valued at $38 billion, and it generated a revenue of $450 million in 2020, a whopping 50% increase from its $300 million revenue in 2019.
26. More than 460,000 websites in the US use PayPal.
(Source: SimilarTech)
The US is definitely the largest market for PayPal, especially when it comes to merchants. As of February 2021, there are 461,189 websites that use PayPal in the country. Amongst the top 5 markets for PayPal website usage also include:
UK – 103,590 websites
Germany – 77,422 websites
France – 57,855 websites
Italy – 55,403 websites
And the numbers keep growing!
Now:
Who are PayPal's Competitors?
Even though many people immediately think PayPal upon mentioning online payments, there are several other platforms that offer similar services. PayPal is still able to keep the top spot but certain competitors are catching up.
Some alternatives include:
Skrill 

Payza

Google Wallet

Stripe

Wepay

2Checkout

Authorize.net

Intuit
All of them essentially provide the same services similar to the ones that PayPal offers. You can even create a Bank of America digital wallet as well. However, not all of them are available worldwide.
27. PayPal had 3.74 billion payment transactions in Q3 2020.
(Source: Statista)
It seems like the third quarter of 2020 was a very successful period for PayPal. According to PayPal stats, its Q3 payment transactions generated a net payment volume of $246.7 billion, representing a 38% year-on-year growth.
28. PayPal's mobile payment volume grew by 52% in Q1 2019.
(Source: Pymnts.com)
PayPal's volume of mobile payments is growing rapidly. Comparing Q1 2019 to Q1 2018, we can see a year over year growth of 52%. What's more, PayPal processed $49 billion worth of mobile payments during the first three months of 2019.
29. Checkout conversion for PayPal transactions is 70% higher than for other types of transactions.
(Source: transaction.)
In case you're wondering why is PayPal so popular among merchants, here's one of the answers to that question: 
Shoppers are much more likely to complete their purchase during the same browsing session on websites that use PayPal than they are on websites with other payment options.
How to Delete Paypal History?
Unfortunately for all the users who wish to delete their PayPal history, that option does not exist. Every purchase or transaction made with PayPal is going to stag cataloged. This is something that PayPal does in order to increase safety. That way it allows you to justify all the transactions you made. 
PayPal introduced the option of archiving all of their transactions in 2014. It does not erase the transaction completely. It still exists but it is just harder to find. The best way to hide your PayPal purchase history is to keep your login details hidden from other people. 
But if you really want to erase your transactions you may simply delete your account. It basically does the same thing. But this is an option that you can consider only when finally deciding that you are not going to use your account anymore. It will purge all the details, transactions and PayPal earnings you have ever made.
Now, let's continue with some PayPal demographics: 
30. 57% of PayPal employees are male.
(Source: Statista)
Moving on from PayPal transactions and figures for a second, we'll take a look at the gender structure of the company:
Overall, 43% of the employees are female. The percentage decreases when we look at different departments. 35% of PayPal VPs and just 28% of those in technical roles worldwide are female.
Looking further into the demographics of the company, we find that 50% of all PayPal employees and 61% of those in leadership roles are Caucasian.
31. 86% of PayPal users would recommend the service to their friends.
(Source: E-Web Marketing)
PayPal vendors and shoppers are likely to recommend this payment option to their family and friends, as the vast majority of them have had a positive experience with the platform. This is another item on the list of things that keeps PayPal at the top of the industry.
32. Elon Musk had to borrow rent money after selling his share of PayPal.
(Source: startups.com)
This may come as a bit of a surprise, but Elon Musk has previously stated that his PayPal proceeds, which amounted to $180 million after taxes, were quickly spent. So, he had to borrow money to make ends meet. 
How about that?
However, he didn't waste the money on houses, expensive cars, and lavish holidays. Instead, Musk used portions of it to start SpaceX, Tesla, and SolarCity.
How many PayPal users are there in 2021?
Statistics say that a year-on-year growth of 16% was established in the third quarter of 2019. Back then, the company had 295 million users, and it surpassed the 360 million mark at the end of 2020. Considering the impact of the pandemic on consumer shopping habits, we're excited to see PayPal's growth in 2021.
Conclusion
As we already know: 
PayPal is the world's biggest online payment system. 
It handles everything from online money transfers, checks and money orders, and can handle any global currency. 
But the main idea is to transfer money electronically. 
Even though its popularity has been dwindling with the introduction of rivals companies and services which are innovative, PayPal is firmly holding its own. 
The latest PayPal statistics certainly support that fact. 
Having a name like Elon Musk related to your creation certainly pays dividends. PayPal statistics still give us the confidence that the usage of PayPal is not going to stop as long as there are professionals who need it. 
Freelance and remote workers are one of the top PayPal customers. So, as long as there are people who are willing to work, PayPal is going to provide them with a great service.  
See you around, on SpendMeNot.com, guys!