15+ College Student Spending Statistics
People typically opt for a college education to qualify for better-paying jobs and obtain the skills they need to gain a competitive edge over other applicants in the market. While this decision aims to improve their economic prospects, most college students face financial problems.
With the current state of high college expenses, many students end up working several jobs and/or getting student loans to fund their studies. Additionally, the financial pressure has also led to a change in the typical student profile. More and more people are choosing to start working right after high school and saving for a few years before going to college. This choice helps them drastically cut down on the years they spend paying back their student loans and the interest incurred on them.
Given the economic significance of this decision, we must also look at college student spending statistics to get an idea about the things college students choose to spend on.
College Spending Statistics (Editor's Choice):
The average rent for students in the US is $600.
Students spend an average of $413 on books every year.
College students spend between $40 and $180 a week on alcohol.
The average tuition cost is $43,775.
The average back-to-college shopping amounts to $159.
Students fund 92% of their college education using financial aid.
The median income of working college students is $34,089 a year.
Although college students usually are on a tight college budget, 76% of the ones who receive help from parents admitted to using the money to eat out, 59% said they spent it on clothes, and about 53% said they spent it on snacks.
The college student spending trends present an interesting picture of this cohort's buying behaviours. So, let's look at some more interesting statistics that outline the spending habits of college students.
College Student Stats about Living Expenses (Rent, Food, Drinks, Clothes)
Living expenses take a considerable chunk out of a college student's budget and are the most money-consuming category after tuition. However, this does not mean the college spending money is reserved only for necessities. Let's look into the spending habits of college students.
1. The average budget for a public four-year in-state student is $26,820.
(Source: College Board)
Have you ever wondered:
How much should I save for college?
Well, let's start with a broader estimate of the average cost of a college education.
According to College Board, in the 2020-2021 academic year, average budgets for full-time students range from $18,550 for public two-year in-district students and $54,800 for private four-year students. Public four-year in-state students need $26,820, while their out-of-state peers need $43,280.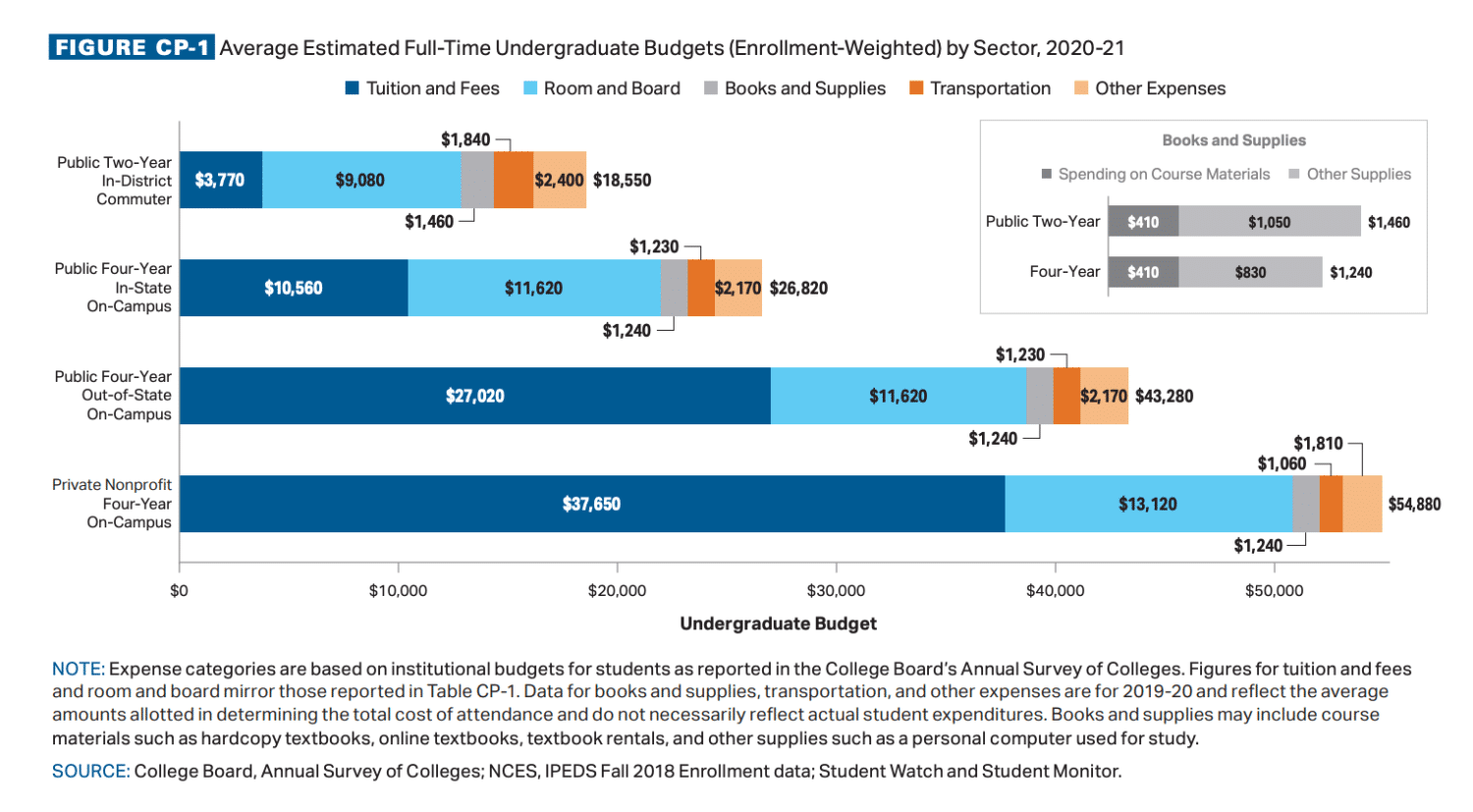 (Image source: College Board)
Now, let's break down these expenses using this and other relevant data sources!
2. The average bedroom rent for students in the US is $600.
(Source: Study Portals)
College expenses statistics show students end up having to pay anything between $450 for shared rooms and $3,000 for one-bedroom apartment rent, with the average staying within the $600 to $700 range.
The higher rents are mostly for furnished bedrooms or the ones that come with utility coverage. The location also matters. For example, the average one-bedroom apartment can start at $600 in more rural areas and up to $3,000 in Boston.
3. College students' monthly utility bills are between $250 and $350.
(Source: Study Portals)
With accommodation come utility costs and they are often not included in the rental contract. So before we see what do college students buy the most, let's check out those unavoidable expenses that weigh on their shoulders.
Electricity: $50 – $150/month
Heating: $50 – $100/month
Internet: $45 – $50/month
Phone subscription: $50/month
Water, sewer, and trash (usually covered by the landlord) — $50 – $75/three months
Pro tip: Before signing a lease, remember that much of it may be negotiable. So discuss with your landlord whether the utility bill can be fully or partly included in the rent price.
4. Transportation costs students up to $1,200 a year.
(Source: Study Portals)
While not as high as other college student expenses, public transportation still costs students anywhere between $45 and $100 a month. Some universities have discounts for students, but not all. Also, this amount tends to be higher in some regions, automatically restricting the buying power of college students living there.
Notably, the biggest transportation expense will be travelling from and to your home if you're an out-of-state or international student. The amount varies greatly, depending on the destination and the frequency of your trips.
5. The average college student food budget is between $400 and $600 a month.
(Source: Study Portals)
Despite their tight budgets, college students tend to be more liberal when it comes to spending on food and snacks. Of course, the amount depends on one's dietary habits.
And how much do college students spend on food if they live in residence halls and select the on-campus meal plans? Well, much less — around $250 a month.
6. Eating out costs college students over $4,000 per year.
(Source: Admissionsly)
Recent college students eating habits statistics show that takeaways and restaurant meals cost more than $300 a month. As a result, food is becoming an expensive part of living expenses, putting a strain on the college student budget. However, it does not deter them from continuously exploring several eateries with friends.
7. College students spend between $40 and $180 a week on alcohol.
(Source: Finmasters)
A whopping 17 million students drink alcohol. The number of students who drink is more than double the total population of New York City, and almost triple the population of Los Angeles.No wonder drinking constitutes a significant portion of student spending.
So how much does the average college student spend on booze?
The estimates vary significantly by source. According to some, the low-end cost of college drinking is around $75 a month. However, a more accurate calculation would consider other contributors to the final tally beside the price of alcohol itself. Supporting expenses include charges to get into parties and table services. So, realistically college students spend anywhere between $30 and $180 a week, or up to $720 a month!
8. College students spend $159 on back-to-college shopping.
(Source: Statista)
Although many colleges shifted to online classes to reduce the Covid-19 spread, the total expenditure on back-to-college ​​clothing, accessories, electronics, and personal care products, has peaked in the past two years. In 2021, college students spent a total of $9.4 billion on such items.
9. The average monthly clothing and accessories expenditure for college students is $148.37.
(Source: Lexington Law)
In addition to clothing, college students spend money buying shoes and several accessories like bags, pushing their average clothes shopping per month to $148.37. The amount spent on clothes was higher in 2020 compared to the previous year and has generally shown an increasing trend for the past decade, college spending statistics reveal.
10. 53% of college students use credit cards to pay for their living expenses.
(Source: CNBC)
Credit cards are a popular payment method among college students. However, they can cause debts to incur quickly during this time. Most financial advisors are against the heavy usage of credit cards until students have graduated and started their proper full-time jobs.
11. 71% of college students are worried about living costs.
(Source: Chegg)
A major concern for most college students is being able to afford all the living expenses while also keeping up with the student loan payments. This dilemma is especially true for students living in more expensive regions like New York, who have to pay a more premium price for rent, food, and utilities.
College Student Spending Statistics about Tuition and Textbooks
Tuition, especially out-of-state tuition, accounts for the biggest chunk out of a college student's budget. The increase in the cost of college tuition over the past two decades has been drastic and forced many students to do multiple jobs or rely on student loans to get by.
Keeping these details in mind, check out the following college student spending statistics about tuition and textbooks.
12. The average tuition cost for schools in the National Universities is $43,775.
(Source: US News)
How much money is spent on college tuition each year?
Tuition fees have seen a spike over the past few decades and are currently at an all-time high. Annual fees of private colleges for the 2021-2022 school year stand at $43,775. Average public college fee is $11,631 for state residents and $28,238 for out-of-state residents.
13. Only 8% of the education costs are paid for with student incomes and savings.
(Source: Education Data)
College students can cover 8% of their college costs using their own income and previous savings, while they are still pursuing their degrees. The remaining amount comes from parents and student loans, college students stats show.
14. Students fund 92% of their college education using financial aid.
(Source: Education Data)
College tuitions are too high for students, and they can't afford to pay for them with their part-time jobs. Therefore, most students take financial aid to pay for their college, with 71% of college students applying for federal aid to fund their education.
And what percent of parents pay for college?
Some 83% of parents pay for at least a portion of their child's education costs. In fact, the annual parental contribution is $11,862, making up the largest share of a student's funding sources.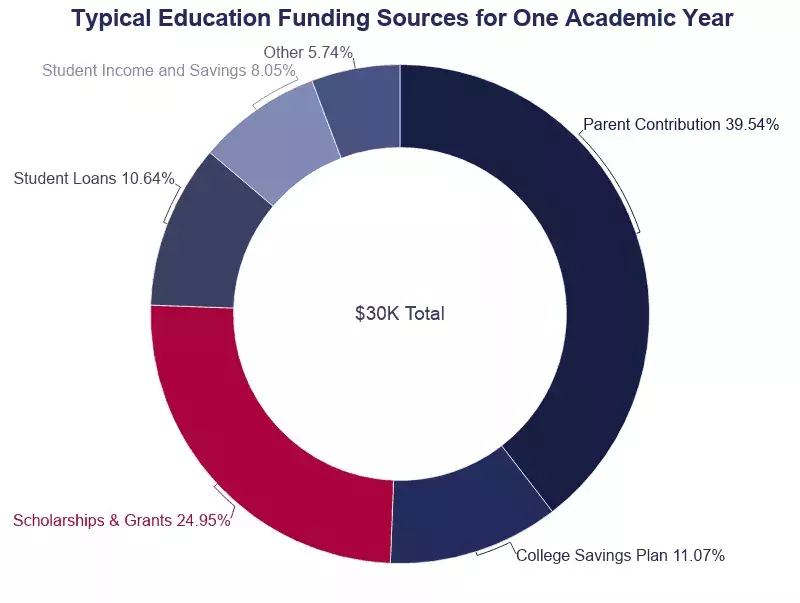 (Image source: Education Data)
15. Spending on course materials declined 7% in the 2019/20 academic year.
(Source: Student Monitor)
Students have reduced their spending on books and course material over the years. The pandemic has further amplified this change by pushing the overall spending down by 7%, from $199 to $186 a year. However, there has been a 23% increase in the spending on e-Text course materials.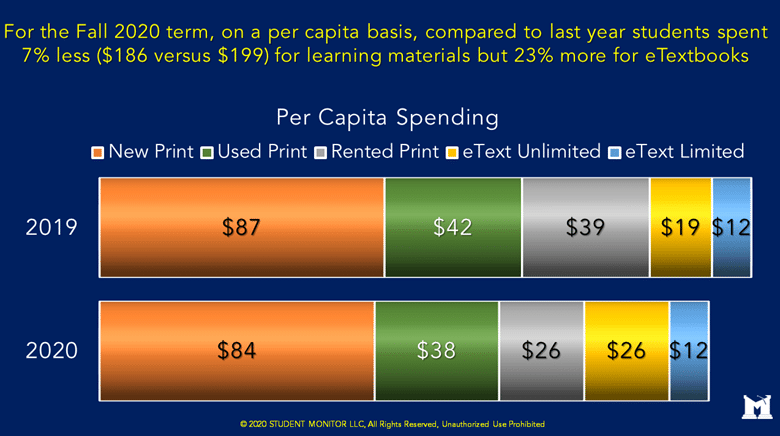 (Image source: Student Monitor)
16. Students spend an average of $413 annually on books.
(Source: AAP)
Average college student spending on books has steadily declined over the years from $700 a decade ago to $413 in the 2019/20 academic year. To put this into context, students are spending $900 on alcohol annually, which is double the amount they spend on books.
College Student Income Stats (Average Income, Buying Power)
One of the most important parts of the discussion around college student spending is their average income. To get a complete understanding of the college student spending behaviour, we need to look at their annual earning data. So, how much money does the average college student have?
17. College students earn around $34,000 annually.
(Source: Glassdoor )
Depending on the intensity of their programs, college students choose from several part-time jobs to fund their living and academic expenses during the course of their studies.
Since college students work in a variety of occupations and industries, the average college student income varies, ranging from $7,500 to $42,000 per year. According to a Glassdoor survey, the median income of college students is $34,089 annually.
The federal minimum wage has dropped from $8.5 in 2009 to $7.25 in 2020, reducing the overall money college students can make from their part-time jobs. This reduction makes working longer hours necessary for them to afford their rent and basic living expenses. It also has reduced their buying further due to the rising living and rent costs.
18. Enrollment of low-income high school graduates to colleges declined by 29% during the pandemic.
(Source: National Student Clearinghouse Research Center)
In 2020, enrollment for low-income high school graduates declined by 29.2%, compared to a 16.9% drop for their counterparts from higher-income high schools.
The decline in enrollment of low-income high school graduates to colleges is representative of a disparity in buying power between them and the higher income groups. This decline is cyclic and will further lead to the widening of the gap between the two socio-economic classes.
19. College students' combined spending power is $593 billion.
(Source: Admissionsly)
The 21.4 million college students in the country earn money in a variety of ways. From the market point of view, they are a distinct consumer segment with a considerable spending power of $593 billion.
Key Takeaways
To sum up, college student spending statistics offer a window of insights into the spending habits of college students. They are in an unfortunate position due to the declining federal minimum wage and the increasing costs of monthly expenditures. However, the spending on eating out and alcohol also show a curious focus on prioritizing the college experience over-managing one's college budget in some cases.
The most significant statistic here is the decline in annual spending on course books and materials, both of which are essential in ensuring a more enhanced learning experience.
The pandemic has generally led to an overhauling of the academic sector. Hence, a final picture can emerge once statistics of the year 2020/21 become available for comparison.