25+ Fintech Statistics You Need To Know in 2021
With innovative software, hardware, and networks, FINTECH has managed to attract millions of consumers. It will have a huge impact on how a business is run and how much it will develop in the future.
Fintech statistics show that fintechs now represent the fastest-growing companies in the world. This implies that businesses need to partner with fintech to flourish.
Does this sound too sketchy to you?
We've prepared some fintech statistics and facts to prove our point:
Fascinating Fintech Facts (Editor's Choice): 
Almost

25% of people

across the world are familiar with Blockchain technology. 

Fintech's worth is estimated to be

$4.7 trillion

, according to Goldman Sachs.

Around

12,000 fintech startups

have opened worldwide.

The biggest fintech company in the world is Ant Financial, boasting a net worth of over

$60 billion

and providing more than

10,000 jobs

. 

46% of fintech companies

in the world agree that AI is among the most relevant technologies for investment. 
If you're wondering where it all started…
…here's a Fintech timeline that might help:
And in the more recent years things look like this:
(Image: Holy Transaction)
Let's get started, shall we:
Statistics for Fintech
1. A survey found that 63% of respondents in the USA have never heard of fintech. 
(Source: Statista)
Fintech in the US is completely unknown by 63% of the population. 21% have only heard of fintech. Only 16% of the population has heard of fintech and has a clear idea of what it is. Despite the low statistics, the industry is still flourishing.
Meaning there's still a lot of room to grow.
2. In 2018, nearly 3 billion users accessed retail banking services through PCs, smartwatches, tablets, and smartphones.
(Source: Juniper Research)
How many people are using fintech services? 
While the exact number is hard to detect, a large number of people are turning toward easier forms of financial access. There's a 53% increase from 2017.
Fintech usage stats also show that consumers are opting more and more for digital services across different channels. 
3. 77% of current financial institutions will continue to focus on internal modernization to boost consumer retention. 
(Source: PWC)
Fintech retention rate statistics show that even established firms continue to focus on internal innovation. 
Focusing on great ease-of-use and user-friendly product designs can encourage consumers to stay. Using blockchain technology and artificial intelligence is a sure-fire way to keep customers. 
Fintech Adoption by Industries, Banks, and Consumers
4. 88% of legacy banking companies fear losing profits to fintech firms.
(Source: PWC)
Banks and similar businesses are at continuous risk of losing profits to fintechs. Fintech consumer adoption statistics show that 24% of all revenue is currently at risk.
How can they prevent that?
Well…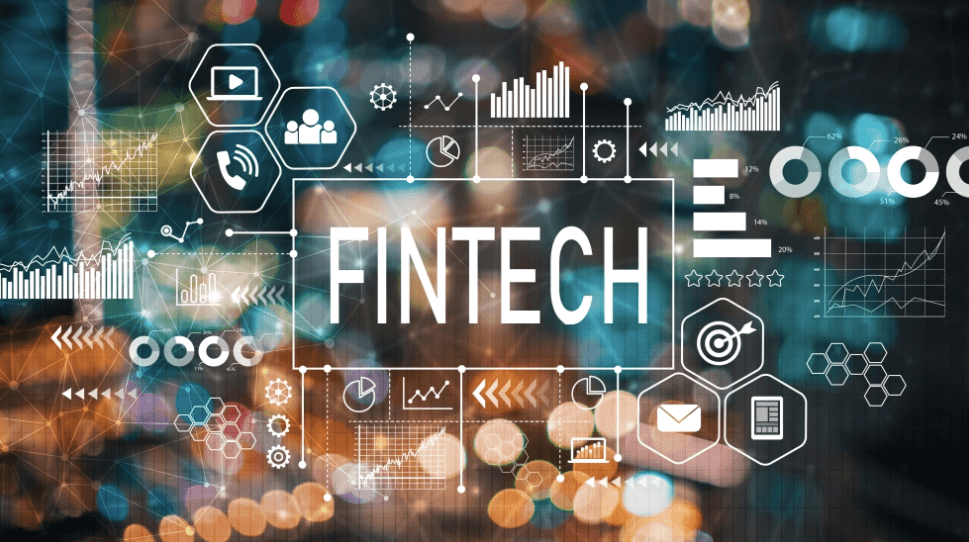 (Image: Emerging Europe)
5. 82% of traditional financial companies plan to increase collaboration with fintechs in the next 3-5 years.
(Source: PWC)
Fintech adoption statistics show that the banking industry's response is to increase collaboration to avoid the risk of losing revenue. 
Innovation is key.
It is one of the best strategies for survival among traditional financial companies. This implies that the banking sector is increasingly investing in fintech. 
6. 39% of consumers plan to use traditional service providers.
(Source: ICBA)
39% of consumers will rely on traditional providers.
Meanwhile, 30% of them plan to try and increase their usage of non-traditional financial service providers.
Top fintech segments have to focus increasingly on attracting consumers to their own platforms. Higher growth rates can be expected in fintech payments from consumers in the future. 
7. Partnering with fintech firms has increased to 45% in 2017 from 32% in 2016.
(Source: PWC)
Financial reporting services have recorded that incumbents have started to outsource to fintech innovators to bring solutions quickly.
Fintech startups benefit from such partnerships since they can bring new models and theories to the forefront. They are able to access the incumbent firms' large data sets to validate and test their new strategies. 
8. 46% of customers use digital channels for personal banking exclusively.
(Source: Singularity University)
Improvements in banking services on online platforms mean that people no longer feel that it is necessary to visit physical locations. Millennial fintech statistics indicate that this is particularly applicable to younger generations. 
That's mainly due to the growth of fintech payment systems. 62% of consumers did see value in having local branches, but the frequency of visits has dropped from a few times monthly to a few times annually. 
9. 93% of companies use at least one cloud-based service.
(Source: Spice Works)
Yup.
You read that right.
93%.
The top three most popular cloud services are web hosting, email hosting and file-sharing, and cloud storage. Cloud-based service for recovery and online backup is set to see 23% growth in the next year or so. 
10. 60% of financial institutions view fintech firms as potential partners.
(Source: The Financial Brand)
The same banks are spending money on actively developing in-house fintech capabilities. Financial institutions believe that fintech areas — ease-of-use, convenience, value, and transparency — can provide users with a better experience. 
Global Fintech Market Share 
11. The global market size for fintech reached $111.8 billion in 2018.
(Source: KPMG)
This is a 120% increase from 2017. The spike in fintech industry worth can be attributed to massive buyout deals. Fintech industry analysis shows that by 2023, the market may expand to over $306 billion. 
The industry's growth is truly astonishing.
12. Ant Financial, a Chinese Fintech Giant, Raised $14 Billion in Investments in 2018. 
(Source: Reuters)
This was a record for money raised by the fintech industry as well as a record in investment history. Ant Financial is responsible for providing digital payment services to over 2 billion people. 
13. Fintech firms are used by 50% of all banking customers. 
(Source: The Financial Brand)
A fintech industry report shows that companies are gaining mindshare and momentum among affluent, tech-savvy, and young consumers. 
50% of all banking customers use fintech firms. 46% of consumers use services from more than three different fintech providers. 
14. The mobile-payment market surpassed $1 trillion in 2019 globally.
(Source: Statista)
Fintech market research shows that the global market for mobile-payment doubled in just four years, from 2015 to 2019. In 2015, it amounted to $450 million. 
It also surpassed $1 trillion back in 2019. 
Currently, it sits on $1,080 trillion 
15. In 2016, 90% of smartphone users made mobile payments. 
(Source: TechCrunch) 
Fintech industry overview shows that the industry has become one of the most successful and biggest branches of tech in the world. 
Fintech Trends
16. Mobile transactions are projected to grow by 212% in 2022.
(Source: Live Vox)
These transactions will eventually compose 88% of all banking transactions. 
Consumer visits to bank branches meanwhile are projected to drop by almost 36%. This means that while the industry will be further disrupted, actual user interaction will only increase. 
17. In 2021, Apple Pay, Google Pay, and Samsung Pay are set to own 56% of the combined market share of mobile payments. 
(Source: Juniper Research)
These are the three main services set to exceed $500 million.
Apple Pay has the biggest market share. Fintech growth trends show that there is a lot of room for development in the mobile market. 
18. More than 69 million people used proximity mobile payment in 2020.
(Source: Statista)
This was an estimated 22% increase from 2018. Back then around 58.7 million people used mobile payment services. By 2020, the number jumped to 69.4 million US users. 
By 2022, it is predicted that the number will rise to 70 million.
19. In-store mobile payments for the US are set to hit $128 billion in 2021.
(Source: Business Insider)
Fintech future trends show that mobile payments are expected to rise significantly.
No surprise, given how convenient they are for users. These solutions are essential to banking and other financial institutions. Customers are increasingly choosing fintech options for their payments. 
20. The global use of mobile payments is set to see an increase of 28% in 2022.
(Source: WorldPay)
28% is quite a significant increase.
This will surpass the use of cash and credit cards. Mobile payment use will become the second most common method of payment after debit cards. 
Fintech Startup Statistics 
21. There are almost 40 VC-backed unicorns in the fintech market with a combined worth of $147.37 billion.
(Source: CB Insights) 
Before we continue, a little clarification — a "unicorn" in this context does not mean the glorious mythical horse. It's a privately held startup company, worth over $1 billion. Not as glamorous, but still pretty neat.
By the end of 2018, five new unicorns were developed, with two more at the beginning of 2019. Fintech unicorn statistics show that the total value of fintech markets was record-breaking. 
22. Fintech startups saw 1,700+ deals in 2018. 
(Source: CB Insights) 
That was a good year for startup fintech companies, with those deals worth nearly $40 billion. US fintech startups did particularly well, with the country's market accounting for 659 investments worth a whopping $11.89 billion in funding. 
23. AI technology is set to increase profits by almost 40% by 2035.
(Source: Accenture)
This could lead to a massive $14 trillion increase in profits!
It will affect 16 different industries and 12 economies. 
This is amazing news for any fintech business! 
Financial technology companies should continue to develop their fintech artificial intelligence systems to get a chunk of this projected profit. 
Fintech Job Statistics
24. 42% of companies claim to have a shortage of AI experts.
(Source: Kforce)
This means that a lot of companies will be scouting for talent in AI. 
How many fintech jobs are there? 
There is no definite answer since the market is still developing. One thing's for sure — there will be thousands of openings in the near future. 
25. The average annual fintech salary in the US is $145,000. 
(Source: Neuvoo) 
That equals $74.36 per hour. Now, before you get too excited and start sending out our resume, entry-level positions in the industry are expected to fetch $42,900 on average per year. At the other end of the spectrum, an experienced professional is likely to make $235,000. 
Blockchain-Based Fintech
26. 77% of financial service incumbents are expected to adopt blockchain in fintech for in-product processes or systems by 2020.
(Source: PWC)
Fintech innovation is expected to benefit the global financial system. 
The global financial sector that is currently dependent on manual networks will change from blockchain implementation by a huge margin. 
(If you need some further reading, check out the latest stats on blockchain adoption in 2021.)
Next:
27. Blockchain firms experienced record levels of deal volume and VC investment of $512 million.
(Source: Finch Capital)
Fintech firms will experience a rise in Blockchain solution investment. It is expected to happen every year at an accelerated rate. 
In Conclusion
New replaces old. It is a tale as old as time.
The digital age is quickly pushing past the old world, causing immense disruptions in almost every industry. 
As we move into a new decade, we will experience increased integration of financial technology and solutions into modern life as we know it. The global financial sector is no different. 
These fintech statistics show that companies need to prioritize fintech innovation. Otherwise, they risk getting left behind in the dust. The biggest fintech trends focus on include extended-reality, artificial intelligence, mobiles, and Blockchain, as shown above. 
So be smart, be adaptive, and use those stats to your advantage.
See you around, on SpendMeNot, guys.