18+ Netflix Revenue Statistics You Should Know At Once
It's popular.
It's affordable.
Everyone loves it.
Welcome to the NETFLIX kingdom.
Ready?
Let's warm up with some of the hottest Netflix revenue statistics:
Fascinating Netflix Statistics (Editor's Choice):
In Q2 2021, Netflix made $7.34 billion in revenue.
By the first quarter of 2021, Netflix had almost 208 million subscribers worldwide.
Netflix has 1,300 clusters for recommendations based on our preferences for viewing.
Around 6% of all time spent viewing videos is spent on Netflix.
Netflix has 50% of the global streaming market share.
The idea of Netflix was considered by Reed Hastings and Marc Randolph in 1997. It became incredibly popular – after all, who wouldn't want all their favorite shows and movies in one place?
How big exactly is Netflix's success, though?
Well, we have gathered some pretty amazing Netflix revenue statistics that answer this question.
These Netflix revenue stats can show you where the future of television and streaming lies. They can also help gauge what the next few years of media will look like.
We here at SpendMeNot decided to dive into the latest Netflix statistics.
Let's see what we got:
Netflix Revenue Stats
The video streaming platform has expanded at an astonishing pace in the last few years. With millions of users, it has impacted how the cinema and TV industries are run.
1. Netflix 2020 revenue was almost $25 billion.
(Source: Netflix)
This marks a 24% increase year-over-year.
The second quarter of 2021, ending June 3, resulted in $7.34 billion in revenue. This was 19.41% higher than the same period a year ago.
The total revenue for 2019 was $20.15 billion, a 27% increase from the year prior.
The 2018 revenue was $15.79 billion, representing a 35.8% jump, while in 2017, Netflix made $11.69, which was a 32.4% increase as opposed to 2016.
2. Netflix generated $200 million from DVD rentals.
(Source: MediaPlayerNews)
The latest annual Netflix revenue report shows that the company made $200 million from DVD rental services in 2020. This was about $100 million down from 2019.
Netflix was founded in 1997 as a movie rental service that shipped DVDs to customers by mail. In 2016, there were 4 million rental subscriptions. But by 2020, that number fell to only 2 million.
Not gonna lie, it was quite a surprise for us that so many people still watch DVDs!
However, this rate is slowing down over time, with many DVD rental stores closing down.
3. Netflix paid almost $300 million to be able to stream Disney content exclusively in 2016.
(Source: Forbes)
Netflix debt rose to almost $3 billion after that deal with Disney, but analysts' trust remained intact.
The streaming platform had invested a lot in being the exclusive platform to stream Disney. Unfortunately, that went down the drain after Disney launched Disney Plus in 2019.
4. The personalized recommendation engine saves Netflix $1 billion every year.
(Source: Business Insider)
Netflix annual revenue shows that the personalized recommendations algorithm is not only great because they make searching faster, but they also save money! By correlating the user to their preferred genre, they can increase binge-watching and time spent on the app.
It's a win-win.
5. Netflix subscribers pay $10.91 monthly on average for the service.
(Source: Statista)
In 2020, Netflix generated an average monthly revenue per streaming customer of $10.91, up from $10.82 in the previous year.
Ten years ago, customers used to pay 40% more to use the streaming service. The cost for subscribers was around $20 while acquiring a new customer cost Netflix approximately $48. Now, Netflix spends about $15.25 to get new subscribers to the platform.
Netflix Revenue Demographics
6. Early in 2021, Netflix had more than 207 million subscribers worldwide.
(Source: Statista)
How many subscribers does Netflix have now? By the first quarter of 2021, Netflix had 207.64 million paying subscribers worldwide. Some 74 million of them reside in America.
The streamer passed the 200 million mark in 2020, after more than doubling its subscriber base since 2016.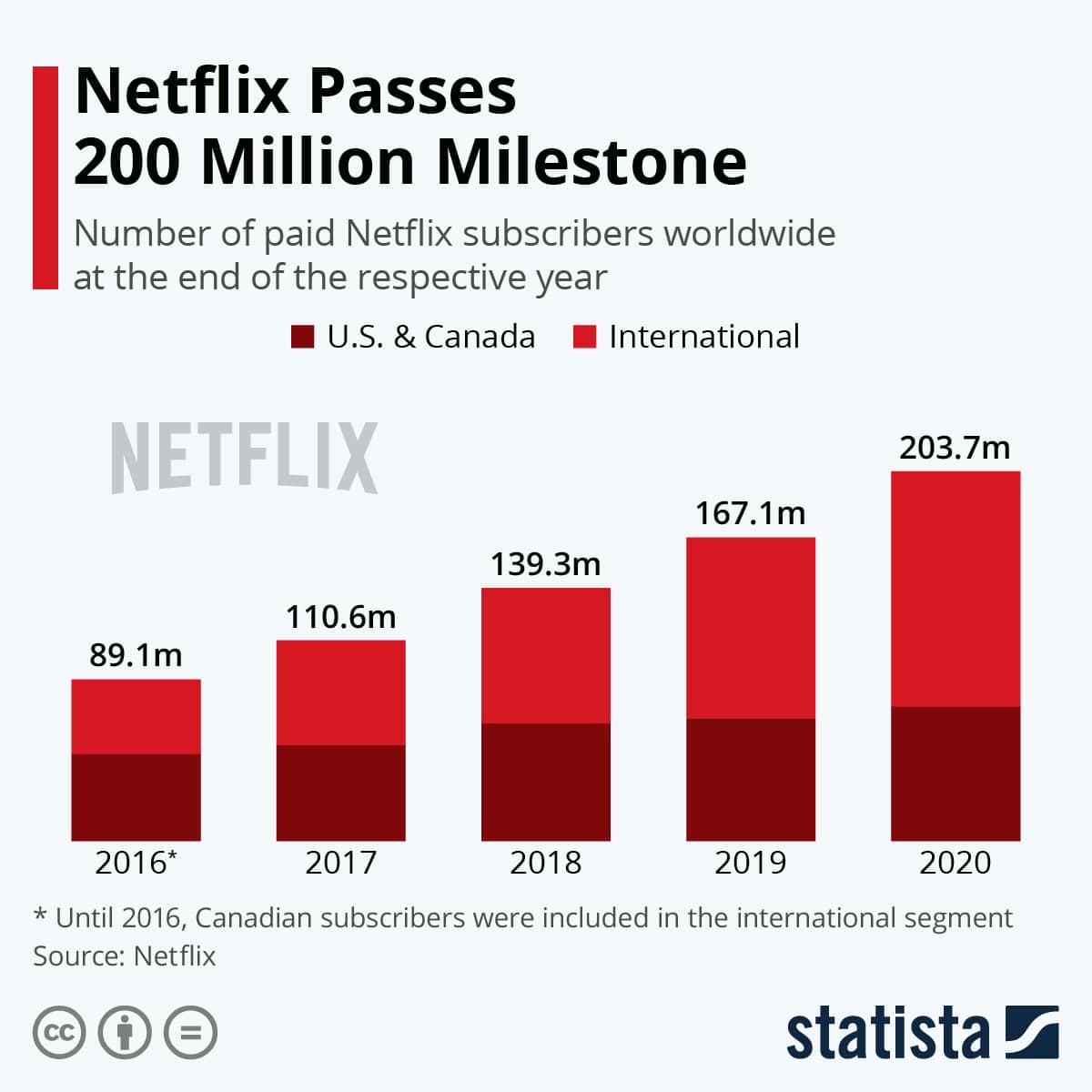 (Image source: Statista)
7. Netflix is available in more than 190 countries.
(Source: Netflix)
As of 2021, Netflix is streaming in over 190 countries, not including China, Crimea, North Korea, and Syria.
The streaming service platform was only available in the US when it started. The recent Netflix user demographics show impressive expansion.
In the beginning, the growth was pretty slow. Now though, it's a global phenomenon.
The expansion was so great that international revenue exceeded the domestic one for the first time in 2018.
8. 70% of Gen Zers have subscribed to Netflix.
(Source: Statista)
The Generation Z was the most likely age group in the US to have Netflix subscription. Next were Baby Boomers, with 39% saying they have subscribed to the service.
Interestingly, Millennials were the most likely to share a password instead of opening their own account.
9. Netflix accounts for 33% of teens' daily video consumption.
(Source: Insider)
Netflix user demographics show that Netflix is more popular than its competitors among youngsters.
Besides, no other streaming service has its own meme.
"Netflix & chill", anyone?
And no, that was not an offer.
Netflix 2020 Spending Statistics
10. $11.8 billion was spent by Netflix for content creation in 2020.
(Source: Variety)
In 2019, the Netflix spendings on original content were higher at $13.9 billion. Reportedly, production delays from Covid-19 caused the decrease.
But according to Netflix's first-quarter earnings report, the streamer will spend over $17 billion on original content in 2021.
11. In 2020, Netflix spent more than $2.23 billion on marketing.
(Source: Statista)
Recent Netflix marketing spendings show that the company doesn't save money when it comes to marketing their own productions. However, the pandemic has affected the company's marketing efforts.
The 2020 figure represented a 16% decrease from 2019's $2.65 billion.
Netflix Growth Trends
12. The Netflix revenue growth rate shows the streamer is on track to generate $51.5 billion in 2025.
(Source: Nasdaq)
Netflix revenue analysis shows that Netflix has only grown in terms of revenue over the years.
How big will Netflix be in five years? Analysts see revenue more than doubling to $51.5 billion by 2025. Meanwhile, earnings per share should more than quadruple.
13. In 2002, Netflix shares cost $15.
(Source: Crunch Base)
Netflix was introduced to the public in 2002 with 5.5 million shares up for sale. Back then, the company was valued at $82.5 million. Recent Netflix stock price trends show that the company has an estimated market value of over $229 billion. This puts the price of their shares at $519.
This is an astonishing Netflix revenue per share growth rate – more than 3,400%!
If you want to get in on the action, check out our guide on How to Buy Netflix Stock.
14. Netflix subscribers are set to reach 360 million by the end of 2025.
(Source: The Motley Fool)
Based on projections, Netflix will add 30 million subscribers in 2022. And this after growing by 20 million members in 2021.
Whatsmore, Netflix subscriber growth shows that the streamer could reach 360 million households by the end of 2025!
Netflix Market Share
15. Netflix accounts for 6% of the total TV and streaming time in the US.
(Source: Nielsen)
In total, Netflix is responsible for 6% of all time spent watching videos in the US.
While competitors for Netflix continue to emerge, no streaming service is as popular in the US market as Netflix. YouTube, however, is just as watched as Netflix.
(Image source: Nielsen)
16. Netflix consumes 12.6% of the world's internet bandwidth.
(Source: Sandvine)
Although impressive, the 2019 figure represents a decline from the previous year, when Netflix made for 15% of the global internet traffic.
17. Netflix comes second for most viewers in the US, right after YouTube.
(Source: Statista)
YouTube remains the biggest streaming service on the planet, with almost 126 million viewers in the US alone.
However, in the Netflix vs Hulu vs Amazon Prime vs HBO Now competition, Netflix beats them all. Netflix has around 74 million viewers, while Amazon comes in 3rd at 56 million. Hulu is in 4th place with 41.6 million viewers, while HBO Now is in 5th place with 41 million.
18. Netflix has 50% of the global streaming market share.
(Source: Parrot Analytics)
While Netflix is still on top of the streaming services, its market share is in decline. In 2019, Netflix accounted for 64.6% of global demand.
Hulu has 33%, while Amazon Prime comes second with 12.2% of the streaming market share, followed by Hulu with 6.1%.
Facing stiff competition, Netflix now has 48.1% of the market share for streaming services in the US. This is the first time the figure falls below 50%.
(Image source: Parrot Analytics)
19. Netflix has the highest user penetration in Norway.
(Source: Comparitech)
According to the stats for Netflix revenue per country, the user penetration rate of Netflix is as follows:
Norway: 37%
New Zealand: 25.8%
Australia: 24.9%
United States: 20.4%
United Kingdom: 19%
Russia is at the other end of the spectrum, with just 0.13% of the population subscribed to Netflix.
Conclusion
Are you still watching? ????
Netflix is one of the biggest streaming services in the world. It essentially changed how we watch entertainment shows and impacted how the industry is run.
Netflix revenue statistics show the streamer is currently the king of almost everything the light touches. But services like Hulu, Amazon, Disney Plus, and HBO Now might turn out to be Scar in this story.
How will all of this play out?
You'll have to click on "Next episode" to find out…